China Hotels >> Yangzhou Hotels >> Grand Metropole Hotel Yangzhou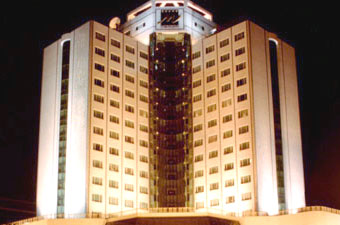 Address:
No.559 Wenchang Middle Road, Yangzhou

Location:
Distance from railway station: 6km From city center: 0km Surrounding landscape: thin west lake, Pingshan hall, Heyuan, Wanjiafu, Yangzhou market, Business building.

Hotel Description:
The four-star Grand Metropole Hotel is situated on the banks of the Yangze River, and features internet access, a shopping center, a flower shop, and a nightclub. Grand Metropole Hotel Yangzhou is the first 4-star hotel in the area, managed by a team of experienced hoteliers under the China Travel Hotel Management Services H.K. Ltd. Grand Metropole Hotel is located on an ancient road in the heart of the city, near the city's main government buildings and financial center.Shanghai is only three hours away, and Nanjing is one and a half hours by car.Besides 161 guest rooms, the hotel offers a shopping arcade, a convention hall, a health and recreation center, a nightclub, and a business center.
Hotel Video:

Facilities Hotel:
Restaurants, Cafe, Gym, Snooker room, Sauna, Nightclub, Beauty salon, Children games room, Dancing hall, Chess room, Shopping Center, Clinic, Flower Shop ?, Book Store, Parking lot

LOCATION - The Hotel distances from principal landmarks: (distances resulting from the map)
To Slender West Lake about 1.3km,
To Yangzhou Railway Station about 6.86km,
To Wenchang Pavilion( Wenchang Ge) about 61.61km,
To Nanjing Lukou International Airport about 90.1km,

*** Click the link you can find other hotels close to the same landmark

Others China Cities
TOP TEN DESTINATIONS

Hotels in Other Destinations