China Hotels >> Shenzhen Hotels >> Gorgcous fad Hotel,Shenzhen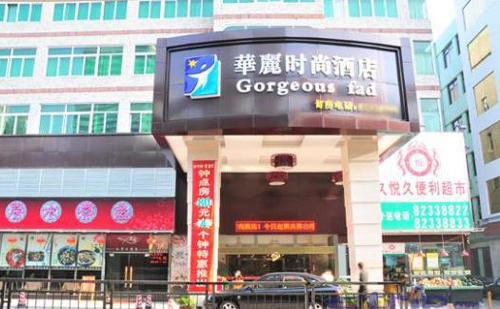 Address:
NO.1120.YanHeNanRoad.Luohu.Shenzhen

Location:
Transportation Location of Gorgeous Fashion Hotel, Shenzhen: near the Lo Wu Railway Station, International Trade Mansion, Jingguanhua shopping mall and other big shopping malls are located around the hotel. It is very convenient for everyday life. 0.5 km away from Lo Wu Railway Station, about 10 minutes on foot 40 kilometers away from Shenzhen International Airport, 40 minutes by car 1 km from downtown Shenzhen, about 7 minutes on foot 8 km from the Exhibition Center, 15 minutes by car 1 km away from East Gate Pedestrian Street, about 20 minutes on foot 1 km from the Di Wang Mansion, 10 minutes by car 8 km away from Huanggang Port, 10 minutes by car 1 km away from the Jingguanhua shopping mall, 5 minutes by car 1 km away from downtown Shenzhen, 5 minutes by car 8 km away from the Convention Center, about 10 minutes by car

Hotel Description:
Gorgeous fashion hotel is located the most prosperous commercial center of Luohu district, Shenzhen, close to Hong Kong, Di Wang Mansion, East Gate Street, Huaqiang North and other commercial circles, it is about a few steps away from the Luohu Port, Wenjin Port, the Shenzhen Railway Station and Luohu Metro Stop. It is a business hotel bringing together guest rooms, conference rooms, leisure, food and beverage, which is your best choice for your business negotiation, entertainment and leisure. Hotel has a total of 120 sets of guest rooms including the elegant , comfortable deluxe business suites, business rooms, deluxe rooms, superior rooms, and room are equipped with mini bar, center air conditioner, high-speed broadband access, domestic and global long distance call, and so on. The Multifunctional Conference Room and Business Negotiation Room can provide modern services for business work and meeting. Restaurant: private Spicy Boiled Fish which has the Si Chuan savor. Business center: facilities are well equipped and advanced, sound, which can provide computer service, photo copying, bookbinding service for the executive persons of the guests, and service like ticket reservation, domestic and international delivery, Express can be provided at any time. The hotel is a business hotel, decorated along the standard of four-star hotel, laid out elegant, beautiful and magnificent, which provide a suitable hospitality place for Executive Units and business groups, as the hotel is located at the heart of the business center of Shen Zhen City, the superior location and convenient shopping and sight-seeing, which also provide a perfect staying place for Hong Kong and Macao compatriots and mainland compatriots. We will make you feel like at home with our remarkable service. Hotel is fashionable and original, warm and comfortable, dignity and elegant, tasty and valuable, having clean guest rooms, distinctive on bedclothes, convenient in transportation.
Facilities Hotel:
LOCATION - The Hotel distances from principal landmarks: (distances resulting from the map)
To Luohu Border Check Point about 1.29km,
To Shenzhen railway station about 1.33km,
To East Gate Street, Shenzhen about 1.39km,
To Dongmen Food Street about 1.83km,
To Grand Theatre about 2.2km,
To Shenzhen Museum about 2.51km,
To ShenZhen Industrial Exhibition Center about 3.96km,
To North Huaqiang business center about 3.97km,
To Shenzhen Stadium about 4.33km,
To Fairy Lake Botanical Garden about 5.64km,
To Shenzhen Convention & Exhibition Center about 6.81km,
To Garden Expo Park about 12.06km,
To Shenzhen North Railway Station (High Speed Station) about 12.77km,
To Overseas Chinese Town about 13.91km,
To Splendid China about 14.07km,
To Happy Valley about 15.5km,
To Window of the World about 15.78km,
To Shenzhen Safari Park about 17.27km,
To High Tech Industrial Park about 17.45km,
To Bay Sport Center about 18.14km,
To Xiaomeisha Beach about 20.15km,
To Dameisha Beach about 20.17km,
To Sea World Site about 22.03km,
To Shekou Ferry Terminal about 22.75km,
To Mission Hills Golf Club about 23.64km,
To Shiyan Lake Hot Spring Resort about 29.33km,
To Shenzhen Baoan Airport about 33.88km,
To Dapeng Ancient City about 40.47km,
To Sunmen Island about 44.09km,

*** Click the link you can find other hotels close to the same landmark

Others China Cities
TOP TEN DESTINATIONS

Hotels in Other Destinations