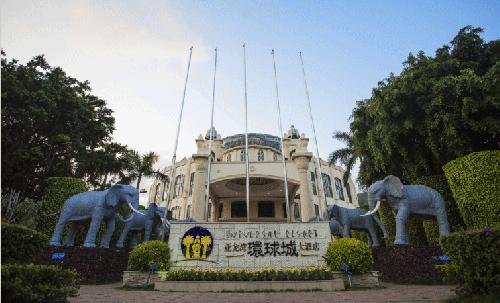 Address:
Yalong Bay National Resort District, Sanya, Hainan 572016, PRChina

Location:
Transportation; The resort provides a complimentary bus service to downtown (20 mins.) and Sanya Phoenix Airport (30 mins.), and sanya train station (20 mins.)

Hotel Description:
Surrounded by lush greenery on beautiful Yalong Bay, the five-star Universal Resort (Yalongwan Huanqiucheng Dajiudian) is designed using a combination of Asian and African styles.It faces the sea with mountains behind and a lake to the west; Is the present Sanya has the mountain, the lake, the sea only " the method of three-in-one" the guest room scenery hotel, a unique situation in Sanya.The resort is convenient to transportation and local attractions with its location only a 30-minute drive to Sanya Phoenix Airport and a five-minute drive to Yalong Bay Golf Club. It takes less than two minutes walk to the private beach. The resort's 257 luxuriously appointed rooms and suites offer a choice of either ocean views or mountain views. All rooms are equipped with private bathrooms, central air-conditioning, IDD/DDD telephones, 29-inch TVs, 39 international channels, internet access, mini-bars and in-room safes. The hotel's Golden Gulf Seafood Plaza serves Hainan and Cantonese cuisine as well as fresh seafood. There is also a Western restaurant. There are eight meeting rooms and a function hall which can hold up to 460 people. The hotel boasts Hainan' s largest theatre which successfully hosted the 53rd ' Miss World' beauty contest finals, the 54th ' Miss World' fashion and talent contest and the finals of the Chinese ' Miss Universe' contest in 2006.

From 08.10.2013 to 31.03.2014, guests reserve the "Featured Package" can enjoy:

1, 2 buffet breakfasts every day
2, free airport pick-up or drop-off or a food and beverage coupon value of 100RMB(choosing one from three)
3, 8% off discount in the duty free shop

Note:
1, the pick-up service should be booked 24 hours in advance
2, shopping in the duty free shop also needs registration at the reception 1 day in advance, till 15.00hrs each day.
Valid For: Main Building Mountain View Twin Room; Main Building Mountain Sea View Big Bed Room; Main Building Mountain Sea View Twin Room;

Until 31.03.2014, guests reserve "Family Package" can enjoy:

1, free breakfasts for two adults and a child each day
2, an free extra bed( no breakfast)
3, BBQ for two adults and a child
4, free use of Prince Car for an hour
5, free airport pick-up or drop off for once.
6, free use of swim ring for once(9:00 to 22:00)
7, 2 ice creams of Travellers Banana Cafe
8, 8% off discount in the duty free shop
9, 5 items of La Floret Playground, Yalong Bay
10, free use of billiard or table tennis for 30 minutes in the amusement center.
11, unlimited free access to Internet(without computer)
12, later check-out till 14:00

Note:
1, the pick-up service should be booked 24 hours in advance
2, shopping in the duty free shop also needs registration at the reception 1 day in advance, till 15.00hrs each day.
Valid For: Main Building Mountain View Twin Room; Main Building Mountain Sea View Big Bed Room; Main Building Mountain Sea View Twin Room;


Facilities Hotel:
Porter/bellhop; Tour assistance; Currency Exchange; Beauty Salon; Medical assistance available; Swimming Pool; Restaurants in hotel; Shopping Center; Babysitting; Limousine; Night Club; Extra bed; Breakfast Room; Airport Shuttle Bus; Restaurants in hotel; Shopping Center; Babysitting; Limousine; Night Club; Extra bed; Breakfast Room; Airport Shuttle Bus;

LOCATION - The Hotel distances from principal landmarks: (distances resulting from the map)
To Yalong Bay National Resort Yalong Bay shellfish Museum about 0.52km,
To Yalongwan about 3.52km,
To Jingrun Pearl Cultural Museum about 9.01km,
To SanYa Beauty Crown Exhibition Center about 14.51km,
To Dadong Sea about 14.85km,
To Sanya New Train Station about 15.09km,
To Sanyabay about 16.04km,
To Sanya Jiefang Lu pedestrian street about 16.14km,
To Sanya Phoenix International Airport about 26.87km,
To Tianyahaijiao about 33.2km,
To Nanshan temple about 49.94km,

*** Click the link you can find other hotels close to the same landmark

Others China Cities
TOP TEN DESTINATIONS

Hotels in Other Destinations