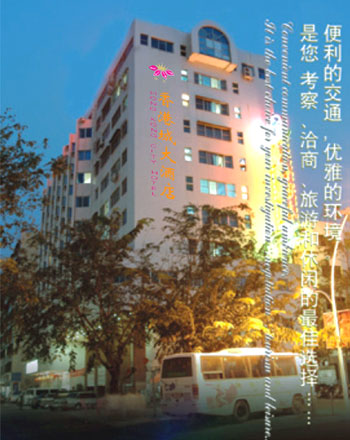 Address:
No.22 Hedong yi Road, Sanya

Location:
The hotel is conveniently situated in the centre of SanYa, near some scenic spot; West to the famous tourism beauty spot, China AAAA-level tourism beauty spot-The last of the end world: 20km, Southwest to China AAAA-level tourism beauty spot-Nanshang Buddhist culture centre: 35km, East to Yalong Bay has the name of World NO.1 Bay in State Tourism Resort: 23km, to Donghai Natural Bathing Spot: 3km, to Lu Huitou Scenery Spot: 5km, Northeast to Luobi Hole: 7km, The bus station is located in the front of hotel gate. Hotel departure to Sanya ferry: 2km, to Sanya bus terminal: 1.5km, to Sanya east bus station: 4km, to Sanya west bus station: 3km, to Sanya railway station: 2km, to the Phoenix airport: 21km.

Hotel Description:
China Hainan (Sanya)Aolisai Hotel is located in the most southern seaside tourism city of China-Sanya .And it is not only at the back of flourishing commercial center, but also facing beautiful Sanya River. Moreover, the hotel is a four-star rated tourism hotel entitled for foreign reception, which combines diet, entertainment, accommodation, shopping as a whole. The hotel owns 118 deluxe suites decorated elegantly and arranged rationally, in which you can enjoy the picturesque scene of Sanya River. The restaurant, Teahouse, conference service center, business center, first-class Sauna center and other service facilities are attached to the hotel where is the idealist place to Health protection the highest status, the cheapest consumption. The staffs of the hotel serve you enthusiastically, to insure you obtain good diet, amusement, rest and go home with happy mood. Travel around the scenic spots of Sanya in daytime, stroll along the side of Sanya River in dusk, see egret dancing, immerse in the fresh sea breeze, and enjoy carefree ness, romance, freeness. Don't wait! Please come here with you friends! The staff of Hong Kong City Hotel offers fist-class service for your accommodation!