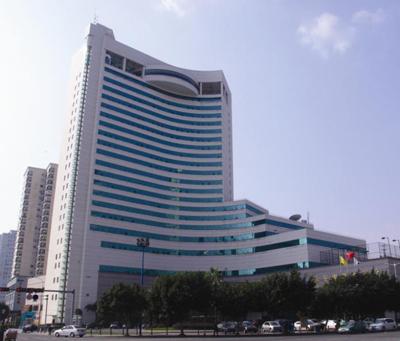 Address:
No. 555, Wansong East Road, Ruian, Wenzhou

Location:
- 1.3km to coach station; - 9.6km to railway station; - 29km to Yongqiang Airport

Hotel Description:
Superiorly located in the centre of the Anyang District, the Rui'an International Hotel, a 4-star deluxe commercial hotel and Provincial Green Hotel, towers 25 stories, 93 meters above the ground to be the symbolic building of the city. With great transportation convenience, the Wenzhou airport and train station are all within 1 hour's drive. With a palatial lobby, 313 sets of well-equipped guestrooms, the 7,000 sqm Chinese Restaurant area, the sight-seeing elevator and revolving restaurant overlooking the city centre, and the comprehensive ancillary facilities such as Sauna, KTV, Disco Bar, swimming pool, tennis court, gymnasium etc, apart from 6 conference halls of different sizes and styles, the hotel integrates the functions of lodge, board, recreation and meeting to meet every need of business travellers. Opened 2002, Decoration in 2009.