China Hotels >> Ruian Hotels >> Ruian Huafu Tian Cheng Hotel - Ruian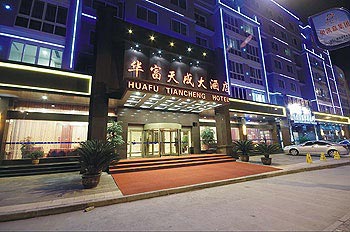 Address:
187 North Sunshine Road (Yangguang Bei Lu)

Location:


Hotel Description:
Situated downtown, the Ruian Huafu Tiancheng Hotel (Ruian Huafu Tiancheng Dajiudian) is 15 kilometers from the Ruian Railway Station. This Zhejiang hotel offers various rooms equipped with free internet access, computers and LCD TVs. Dining options include both Chinese and Western cuisines. For guests traveling on business, there is a business center and meeting rooms available.
Facilities Hotel:
LOCATION - The Hotel distances from principal landmarks: (distances resulting from the map)
To city government about 1.13km,
To Wenzhou Railway Station about 22.92km,
To Wenzhou Yongqiang Airport about 25.21km,

*** Click the link you can find other hotels close to the same landmark

Others China Cities
TOP TEN DESTINATIONS

Hotels in Other Destinations