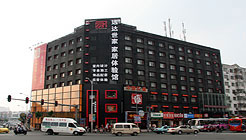 Address:
No.169 Gexin Road, Nangang District, Harbin

Location:
From the Taiping Airport: 25km From the Harbin railway station: 2.7km Environment: cultural park, children's park, commercial buildings, underground shopping street, Gogol Commercial Street, Harbin amusement park, botanical gardens

Hotel Description:
Yuanda Business Hotel is located in No.169 Gexin Road, at the junction of Haicheng Street and Gexin Street and adjcaent to Zhongshan Road. Hotel set rooms, dining in one comprehensive business hotel, with a number of bus lines, take tour in Harbin. The hotel is in a 8 story building and boasts 143 guestrooms. It has standard rooms, deluxe rooms, suites, single rooms, with a number of small conference rooms. There are restaurants serving traditional Chinese cuisines and full business facilities.