China Hotels >> Hangzhou Hotels >> Xin Ding Garden Hotel, Hangzhou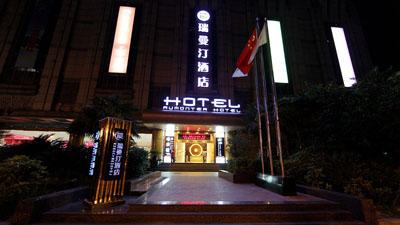 Address:
No.135 Yan'an Road, Shangcheng District, Hangzhou(Besides Carrefour Supermarket, Yongjin Square of West Lake Avenue)

Location:
Hangzhou Xiaoshan International Airport: 32km; City center (Wulin Square): 3km; Hangzhou City Station-Railway Station: 4km; Hangzhou East Railway Station: 7km; Hangzhou South Railway Station: 25km; Hubin: 1km.

Hotel Description:
Xin Ding Garden Hotel is located beside the West Lake; situated in No.135 Yan'an Road which is the center of business, culture, finance and transportation. This hotel is adjacent to Wushan Square and Hefang Street, western to West Lake, northern to Wulin Road-Woman's Street; about 30 minutes drive to Xiaoshan International Airport, and 2 muntes walking to West Lake. It has convenient location. Xin Ding Garden Hotel, Hangzhou has the construction area of 12,000 square meters, 115 rooms which can view the beautiful West Lake. The hotel provides a separate 24 hours circulation system with a carbon air purification. The room always keeps the fresh air. There are unique eco-green non-smoking rooms, in which guests can feel the sound of water, birds singing, accompanied by green plants, goldfish, and the life is full of flavor. The hotel also provides multi-functional business center, conference facilities, deluxe banquet hall, Sunshine Garden restaurants wth Panorama view of West Lake. It has convenient transportation and location, and decorated according to the 4-star standard. It's guests' ideal place to accommodate.
Facilities Hotel:
LOCATION - The Hotel distances from principal landmarks: (distances resulting from the map)
To He Fangjie Wushan Square about 1.36km,
To Chengzhan Train Station about 1.75km,
To Zhejiang Provincial Museum about 1.99km,
To Lei Feng Xi Zhao about 2.4km,
To Su Di Chun Xiao about 2.51km,
To Southern Bus Station about 2.6km,
To Yan'an Road Wulin Square about 2.69km,
To Si Ji Qing Clothing Market about 2.78km,
To Zhejiang World Trade Center about 3.13km,
To Hangzhou Botanical Garden about 3.54km,
To Hangzhou Huanglong Sports Center about 3.62km,
To Hangzhou Peace International Conference & Exhibition Center about 4.96km,
To The Imperial Grand Canal about 5km,
To Eastern Bus Station about 5.13km,
To Hu Pao Meng Quan about 5.35km,
To Feilaifeng of Lingyin Temple in Hangzhou about 5.58km,
To Hangzhou Liu He Pagoda about 6.46km,
To East Railway Station about 6.7km,
To Western Bus Station about 7.21km,
To North Bus Station about 9.21km,
To Hangzhou Xixi national wetland park about 9.99km,
To Hangzhou World Leisure Expo Park about 12.61km,
To Zhejiang Sci Tech University about 20.01km,
To Hangzhou Xiaoshan International Airport about 26.32km,

*** Click the link you can find other hotels close to the same landmark

Others China Cities
TOP TEN DESTINATIONS

Hotels in Other Destinations