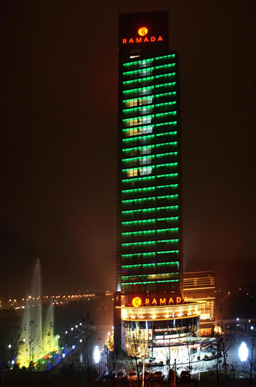 Address:
No.3399, Jiangnan Road, Binjiang hi-tech zone, Hangzhou

Location:
Away from Xiaoshan International airport:25km Away from Hangzhou train station:8km Away from business center and Xihu scenic zone:0km

Hotel Description:
Locating in the south side of Qiantang River and Jiangnan Road which is the main road of Binjiang Hi-tech development zone, the hotel is a foreign hotel established according to the high standand hotel. The hotel began its business in 2005 and is invested and established by Hangzhou Yingguan real estate Ltd. Co..Being a member of the most powerful Wyndham Co., the hotel is listed as the top international hotel. The hotel together with other hotels establish novelty hotels featured with modern entertaining hotel. The hotel located in the zone which develops fast. The transportation of the hotel is convenient.
Facilities Hotel:
LOCATION - The Hotel distances from principal landmarks: (distances resulting from the map)
To Hangzhou Liu He Pagoda about 3.9km,
To Hu Pao Meng Quan about 4.68km,
To Lei Feng Xi Zhao about 5.64km,
To Southern Bus Station about 5.79km,
To He Fangjie Wushan Square about 6.04km,
To Chengzhan Train Station about 6.68km,
To Si Ji Qing Clothing Market about 7.14km,
To Su Di Chun Xiao about 7.21km,
To Zhejiang Provincial Museum about 7.74km,
To Hangzhou World Leisure Expo Park about 7.78km,
To Hangzhou Botanical Garden about 8.63km,
To Feilaifeng of Lingyin Temple in Hangzhou about 8.72km,
To Zhejiang World Trade Center about 9.49km,
To Yan'an Road Wulin Square about 9.56km,
To Hangzhou Huanglong Sports Center about 9.65km,
To Eastern Bus Station about 10.67km,
To Western Bus Station about 11.44km,
To Hangzhou Peace International Conference & Exhibition Center about 11.68km,
To The Imperial Grand Canal about 11.88km,
To East Railway Station about 12.34km,
To Hangzhou Xixi national wetland park about 13.11km,
To North Bus Station about 15.64km,
To Zhejiang Sci Tech University about 22.94km,
To Hangzhou Xiaoshan International Airport about 26.26km,

*** Click the link you can find other hotels close to the same landmark

Others China Cities
TOP TEN DESTINATIONS

Hotels in Other Destinations