China Hotels >> GuangZhou Hotels >> Zengcheng Hotel ,Guangzhou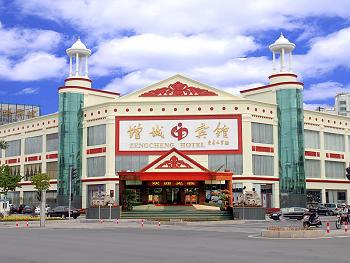 Address:
Yanta big avenue Zengcheng city, Guangzhou.

Location:
the surrounding environment:the south of mountain emotion square, Hexiangu temple, Zhengguo Buddhist temple.Distance from Pazhou Exhibition Hall 50km, Distance from Liuhua Exhibition Hall 60km.

Hotel Description:
Zengcheng Hotel is located at " golden corridor" of Pearl River delta, adjacent to Guangshan road, Guanghui highway, it is a foreign related hotel that synthesizes Europe-style and oriental emotion. Hotel is built in 1995, the entire area is 40, 348square meters, it synthesizes multi functional service items such as catering, living, entertainment, leisure, business trade and meeting etc. Hotel has standard room, high class deluxe room, presidential suite and administrative distinguished guest building. There are advanced audio and visual installation and 9 sets meeting rooms of internet service and multi functional hall, it can hold 30-600 people. It is very famous for wife cake, lute duck. The grand magnate night club can hold 300 people, 33 sets of newly decorating Karaoke distinguished guest room, it shows nobility and luxury, and it is a good place for leisure and entertainment.
Facilities Hotel:
LOCATION - The Hotel distances from principal landmarks: (distances resulting from the map)
To Guangzhou Grand World Scenic Park about 43.37km,
To Lotus Hill about 46.47km,
To South China Botanical Garden about 48.4km,
To Nanhu Amusement Park about 50.09km,
To Chinese Export Commodities Fair Pazhou Complex, Guangzhou about 50.66km,
To Guangzhou East Train Station(TianHe District) about 52.56km,
To CITIC Plaza about 52.71km,
To Xiaozhou Village of Guangzhou about 52.92km,
To Tianhe Staium about 52.94km,
To Sun Island Amusement Park about 53.14km,
To Guangdong Provincial Museum about 53.55km,
To Guangzhou Opera House about 53.77km,
To Canton Tower Guangzhou TV Tower about 54.08km,
To Guangzhou New Baiyun International Airport about 54.62km,
To Bars in Huanshi Lu about 56.3km,
To Baiyun Scenic Spot about 56.5km,
To Pearl River about 57.69km,
To Statue of Five Goats about 58.44km,
To Yuexiu Park about 58.52km,
To Nanyue King Tomb Museum about 58.71km,
To Zhenhai Tower about 58.74km,
To Chimelong Paradise Park about 58.8km,
To Beijing Road Business Zone about 58.92km,
To Sun Yat-sen Memorial Hall about 58.97km,
To Chinese Export Commodities Fair Liuhua Complex about 59.27km,
To Guangzhou Train Station about 59.34km,
To Jiangnan Business Zone about 59.52km,
To Temple of Six Banyan Trees about 59.54km,
To Business Zone, Renming Road about 59.73km,
To Sacred Heart Cathedral (Seksat Church) about 60.25km,
To Business Zone of Shangxiajiu Road about 61.04km,
To Guangzhou Culture Park about 61.07km,
To Green Xiguan Dawu Community about 61.6km,
To Bars in Binjiang Lu about 61.77km,
To Shamian Scenic Spot about 62.21km,
To Qingping Market about 62.21km,
To Bars in Bai'e Tan about 62.37km,

*** Click the link you can find other hotels close to the same landmark

Others China Cities
TOP TEN DESTINATIONS

Hotels in Other Destinations