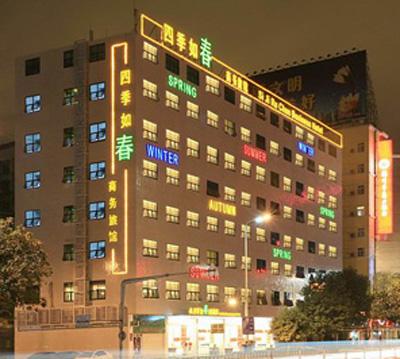 Address:
No.103, Wuyi Middle Road, Fuzhou City, Fujiang Province

Location:
Distance from South Bus Station:0.5km; Distance from North Bus Station:4.5km; Distance from the railway station:4.5km; Distance from the city center :0.5km; Distance from the airport:48km; Distance from bus staion(to airport):0.2km

Hotel Description:
Spring Hotel is located in Wuyi Middle Road, on the north of Wuyi Square, Yushan Scenic Zone, Dongjie Kou, on the south of Lalijia City, Taijiang Walking Street, Ming River. The hotel is in the walk distance with the bus station to the airport and the South Bus Station. It is also located in the main vein zone of the hot spring to offer guests abundant natural deep spring. There are modern business facilities, affordable restaurants, a full-featured conference and training facilities, free broadband internet surfing service . With its excellent and convenient location, attentive and thoughtful service, it makes businessmen and tourists feel comfortable and relaxed.