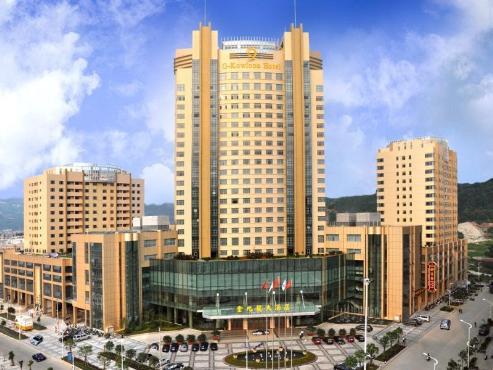 Address:
No.66 Yulong North Road, Tongnan New Citt,Fuding,Fujian Province

Location:
- 0.5km to city center; - 2km to Railway Station; - 180km to Airport; - 0.1km to Exhibition Center; - 0.1km to Coach Station.

Hotel Description:
Jinjiulong Hotel is located to the Tongnan new areas of Fuding city which is in the boundary between Fujian and Zhejiang province. It's embraced by mountains and a river has mild climate and beautiful scenery. It's in the west bank of Tongjiang River and in the south sight of the national scenery famous spot Taimu mountain range. It is west side and south side faces city trunk highway that is facilitated transport in township and rural area and has easy access to transportation facilities. The hotel covers 26680 square meters, the total building area is 46634 square meters, the big hall is 12.8 meter in height and covers 2500 square meters, is designed as a stylish and fashionable hotel , the rooms and suits are decorated in a chic, magnificently yet warm manner. The hotel offers the facilities of accommodations, shopping, recreation, entertainment, Chinese and western cuisine, Banquet and Conference center.etc; it stands for the pronoun of luxurious and positioning as a top-level international business hotel. This exclusive 290 room(s) hotel features a unique Chinese restaurant where guests can experience a fusion of flavors from the East and West, as well as escape from mundane ordinariness at the most theatrical Chinese restaurant in town. The hotel also have a western café, a Japanese cuisine, a cigar bar, a lobby lounge, tea club, chess card room, indoor swimming pool, the multi-function conference facilities which can accept 600 people in the meantime. Fully equipped health club and spa facilities, with a wide range of treatments, will be available to help relax and rejuvenate both body and mind. Service is rooted from one's heart. We are appreciated that your patronage and will provide considerate and hospitable services elaborately.