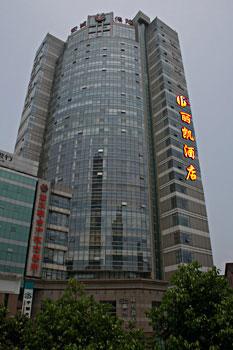 Address:
No.130 3# Zhongshan Road, Yuzhong Distict, Chongqing

Location:
Chongqing Likai Hotel - Chongqing Location & Transportation:- 25km to Jiangbei Airport; - 5km to Jiefangbei; - 4.5km to Caiyuanba Railway Station.

Hotel Description:
Located in CBD of Chongqing, Xiyue City Hotel is a deluxe hotel specially for business guests. Opened in 2005, the hotel has easy access to the government, railway station and so on. Each room is furnished with free broadband internet access and top-brand furnitures of 5-star standard.
Hotel Video:

Facilities Hotel:
, 24-hour front desk, Business Center, Laundry, Room service, Parking, Meeting Rooms, Ticket Service, Baggage storage

LOCATION - The Hotel distances from principal landmarks: (distances resulting from the map)
To Ciqikou Village about 0.22km,
To Chongqing Railway Station about 0.63km,
To Liberation Stone about 2.65km,
To Chongqing North Railway Station about 5.79km,
To Chaotianmen Shipping Port about 14.74km,
To Chongqing Jiangbei International Airport about 20.15km,
To Dazu Rock Carvings about 75.74km,

*** Click the link you can find other hotels close to the same landmark

Others China Cities
TOP TEN DESTINATIONS

Hotels in Other Destinations