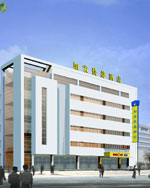 Address:
North entrance of Henshan Road, Zhujiang Road, Changzhu, Jiangsu

Location:
Distance from downtown:3.2km

Hotel Description:
Home Inn-Changshu Henshan Road Branch is located at the entrance of Henshan Road, adjacent to the sports center of the Century Avenue. The hotel owns 108 well equipped guest rooms which are equipped with 24-hour hot water, aircon, TV, telephone, free internet connection, standard bed and furniture.Following the three unifications of Home Inns, the hotel is unifying in architectures, in services, and in hotel facilities with the other Home Inns. Designed by famous designers, the hotel is well equipped and best represents a pleasant accommodation environment.