China Hotels >> Beijing Hotels >> Super 8 Hotel State Fair ( Beijing Anisun Hotel)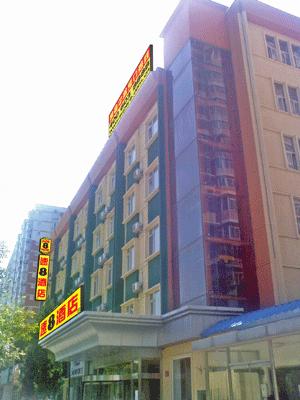 Address:
No.1, Xiaohuang Mansion, West Heping Bridge, Chaoyang District, Beijing

Location:
Away from West Heping Bridge:100m Away from airport:30minutes by car Away from Beijing train station:20minutes Away from Beijing west train station:30minutes Away from Andingmen Beijing:20minutes by foot Away from Olympic Game Village:2.5km Away from Beijing international exhibit center:3km

Hotel Description:
Super 8 Hotel State Fair is the world's largest hotel brand the U.S. economy SUPER8 one store in Beijing. Hotel is located in the North West Bridge, the south side of the peace tricyclic downtown area, and located in the Asian Games Village, the International Exhibition Center, the scope of the shopping district of radiation, close to Temple, Chang An Avenue, Ditan, Beihai Park and other tourist attractions. Hotel location is very superior, convenient transportation and subway through the city center on the 5th Line station near the west bridge of peace, more than ten bus lines criss-cross, extending in all directions from the hotel to the International Convention and Exhibition Center, only 8 minutes by car, drive from the capital International Airport can be reached within 30 minutes, 25 kilometers away from the West Railway Station, to make your trip quickly and easily. Three-star hotel is designed to configure a chain of economy hotels, a total of 74 warm, clean and comfortable rooms, modern facilities, high-quality, friendly service, which let it to be an ideal choice for leisure and business activities in Beijing.
Facilities Hotel:
LOCATION - The Hotel distances from principal landmarks: (distances resulting from the map)
To Da Du Bar Street about 1.4km,
To Traditional Chinese Medicine Museum about 1.46km,
To Yonghe Lamasery (Lama Temple) about 2.11km,
To China International Exhibition Center about 2.2km,
To Temple of Confucius about 2.37km,
To Bell and Drum Towers about 3.68km,
To Hou Hai Bar Street about 3.82km,
To National Aquatics Center(The Water Cube) about 3.88km,
To Shichahai Lakes about 4km,
To Sanlitun Bar Street about 4.21km,
To The National Art Museum about 4.25km,
To Dongsi Road about 4.44km,
To The National Stadium(The Bird's Nest) about 4.6km,
To Dongyue Taoist Temple about 4.98km,
To Beihai Park about 5.06km,
To Jingshan Park about 5.18km,
To Beijing National Agricultural Exhibition Centre about 5.29km,
To Wangfujing Street about 5.48km,
To The Forbidden City about 5.97km,
To Beijing North Railway Station or Xizhimen Station about 5.98km,
To Chaoyang Theatre Acrobatics Show about 6.04km,
To Beijing Planetarium about 6.28km,
To silk market beijing about 6.47km,
To Jianguomenwai Street about 6.48km,
To Beijing 798 Art Zone about 6.53km,
To Zhongnanhai about 6.78km,
To Tiananmen Square about 6.8km,
To Beijing Exhibition Center about 6.87km,
To Beijing Railway Station about 7km,
To The China World Trade Center about 7.14km,
To National Museum of China about 7.28km,
To Xidan Business Street about 7.37km,
To The Memorial Hall of Chairman Mao about 7.48km,
To Beijing Concert Hall about 7.6km,
To Bejing Zoo & Aquarium about 7.79km,
To Zhengyici Peking Opera Theatre about 8.2km,
To Huguang Peking Opera Theatre about 8.96km,
To Tianqiao Acrobatics Theatre about 9.17km,
To Temple of Heaven about 9.27km,
To Museum of Natural History about 9.51km,
To Beijing Capital Museum about 9.67km,
To Beijing South Railway Station about 10.64km,
To Beijing West Station about 11.29km,
To Grand View Garden about 11.62km,
To Yuanmingyuan Old Summer Palace about 11.66km,
To Happy Valley Amusement Park about 12.53km,
To Wukesong Indoor Stadium about 13.15km,
To Summer Palace about 13.19km,
To New China International Exhibition Center(NCIEC) about 16.19km,
To BeiJing NanYuan Airport about 17.8km,
To Beijing Capital International Airport about 19.24km,
To Fragrant Hills Park (Xiangshan Park) about 20.5km,
To Ming Tombs about 36.29km,
To Badaling Great Wall about 55.2km,

*** Click the link you can find other hotels close to the same landmark

Others China Cities
TOP TEN DESTINATIONS

Hotels in Other Destinations