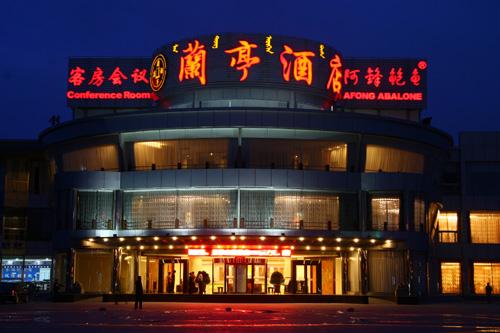 Address:
Xitu High-tech District, Baotou

Location:
-3km to Baotou Railway Station; - 4.5km to Yinhe Square; - 19.5km to Baotou Airport.

Hotel Description:
Covering over 10,000 square meters, Lanting Hotel is 4-floor muti-functional hotel with the combination of catering, accommodation and business. The design is the combination of tradition and modern. The name of hotel derives from the famous writing of Wang Xizi—Lantingjixu. Chinese restaurant is on first and second floor. It features Hunan cuisine and senior seafood. It has 19 various private rooms, 2 Japanese barbecue and 1 banquet hall. 86 guestrooms are on third and fourth floor. All room are equipped with central air-condition, LCD digital TV, etc.. Besides, chess-and-card room, gym, lobby bar and flight ticket and tour service are provided to rich your accommodation.
Facilities Hotel:
LOCATION - The Hotel distances from principal landmarks: (distances resulting from the map)
To Ahl Ding Guangchang( Ahl Ding Square) about 2.72km,
To Baotou Airport about 15.68km,
To Baotou Railway Station about 22.13km,

*** Click the link you can find other hotels close to the same landmark

Others China Cities
TOP TEN DESTINATIONS

Hotels in Other Destinations