China Hotels >> Yangshuo Hotels >> Yangshuo Tangrenjie Hotel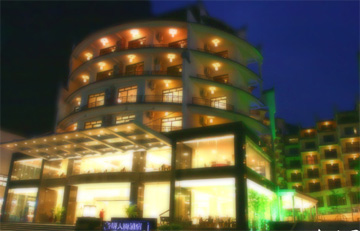 Address:
No. 8, Guanlian Road, Yangshuo County, Guilin

Location:
95km away from Guilin Liangjiang International Airport, 66km away from Railway Station, 67km away from Central Square.

Hotel Description:
The hotel is highly renowned, which is a good example in hospitality industry in Yangshuo city. The design in river-view and mountain-view shows fascinating pastoral scene and fully harmonious Eastern culture. The hotel features modern facilities of standard 4-star hotel. 450 guestrooms and suites are decorated meticulously. It is unique in design, excellent in manufacturing technique, gathering catering, conference, recreation. And it is a ideal choice for tourism and business. The hotel receives good reputation from guests around the world.
Facilities Hotel:
LOCATION - The Hotel distances from principal landmarks: (distances resulting from the map)
To West Street( Xi Jie) about 0.8km,
To Guilin Railway Station about 58.91km,
To Guilin Liangjiang International Airport about 67.12km,

*** Click the link you can find other hotels close to the same landmark

Others China Cities
TOP TEN DESTINATIONS

Hotels in Other Destinations