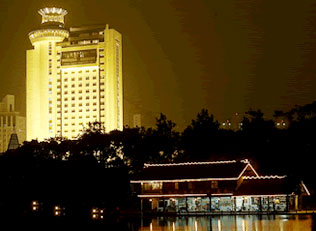 Address:
No.36, Lucheng Road, Wenzhou

Location:
Away from city center:0.1km Away from train station:25km Away from airport:40km Away from bus station:10km

Hotel Description:
The Shunsheng Hotel is a four star hotel located on Lucheng Road. The hotel enjoys a good location where it is on the side of Jiuhua Lake and the thriving business street -- Renmin Road is within walking distance. In total the hotel has 255 sets of rooms, including single/double standard rooms, suites or deluxe suites. The rooms boast complete facilities : a private bath, air-conditioning, Satellite TV, an IDD telephone, and a minibar. The restaurants here serve Chinese cuisine. Guest can enjoy the beautiful night view of the city while having their dinner in the revolving restaurant on the 25 floor of the hotel. For the business travelers, the hotel provides a business center, and conference rooms all equipped with advanced audiovisual facilities; for leisure travelers, the hotel also has an indoor swimming pool, a sauna and massage center, a billiards room, gymnasium and a beauty center and Disco Bar.
Facilities Hotel:
LOCATION - The Hotel distances from principal landmarks: (distances resulting from the map)
To Wuma Street about 1.48km,
To Jiangxin Island about 2.03km,
To Wenzhou Railway Station about 4.97km,
To New South Station about 5.08km,
To Xincheng Station about 6.14km,
To Wenzhou International Exhibition Center about 7.29km,
To Wenzhou Railway South Station about 7.74km,
To Wenzhou Yongqiang Airport about 23.18km,

*** Click the link you can find other hotels close to the same landmark

Others China Cities
TOP TEN DESTINATIONS

Hotels in Other Destinations