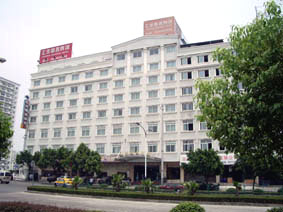 Address:
NO.12 Nanpu road, Wenzhou

Location:
Away airport: 28km, away railway station: 6km Surrounding landscape: Zhongshan park, Ma'anchi park, River center island

Hotel Description:
The Huifeng business hotel is located on NO.2 Nanpu Wenzhou city, the adjacent train station, the new south station, its transportation convenience, the environment exquisite, the geographical position is advantageous. The hotel altogether has the business surface more than 10, 000 square meters, according to three star classes hotels standard repair, provides the facility and the zealous thorough service for the intercourse guest which has it all, is sure need to build conveniently for the guest, is comfortable, cleanly, family of hotel .The hotel the safe trade route altogether has 8, had 140 different specifications forms the guest room, the guesthouse provides the central air conditioning, the television, the international domestic telephone, the wide band network, the fire prevention has reported to the police, the numeral supervisory system. In the guesthouse simultaneously is equipped with the dining room, free provides the nutrition rich self-service breakfast for the guest, may hold the banquet, the cocktail party and so on a series of activities, also may zero slightly pour, three star classes services, the commercial price, will become your excellency to be on a vacation first choice of the leisure commerce activity. We by will be warm, the smile, thoroughly, the fast service provide enormous convenient to the guest, will await respectfully you as necessary the presence!