China Hotels >> Wenzhou Hotels >> Ex Palm D'or Hotel, Wenzhou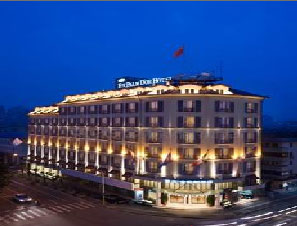 Address:
No.23, Minhang Road, Wenzhou

Location:
1.5 km away from city center, 3.5 km away from railway station, 30 km away from the airport:, 2.5 km away from the exhibition center,

Hotel Description:
The hotel is located at Minhang Road, close to Wenzhou Times Square, Sports Center, with convenient situation and transportation. All rooms of Ex Palm D'or Hotel are equipped with advanced Internet and audio-visual system-Bose stereo, a variety of quality and excellent hotel products - Chopin and Bvlgari top brands and the "forget me" cotton fabric, allowing you to fully enjoy a comfortable and convenient environment. The hotel has 110 guest rooms, including deluxe rooms, Extreme rooms, luxury suites, Extreme theme suites, presidential suites.And this hotel providing 24-hours' room service. Ex Palm D'or Hotel possesses Veranda,a terrace restaurant,taken care of by professional senior Western chefs and sometimes the restaurante would invite Italian senior chefs. The restaurant is elegant and outstanding with all kinds of European art and luxury items on display, providing multi-lingual services.It reminds you the life of Europe in Wenzhou, this dynamic southern city.The exotic lobby bar- The Theater offers authentic Italian coffee and exquisite desserts and afternoon tea and cocktails.
Facilities Hotel:
LOCATION - The Hotel distances from principal landmarks: (distances resulting from the map)
To Wuma Street about 1.69km,
To Wenzhou Railway Station about 2.47km,
To New South Station about 2.58km,
To Xincheng Station about 3.19km,
To Wenzhou International Exhibition Center about 4.66km,
To Jiangxin Island about 4.71km,
To Wenzhou Railway South Station about 9.68km,
To Wenzhou Yongqiang Airport about 20.3km,

*** Click the link you can find other hotels close to the same landmark

Others China Cities
TOP TEN DESTINATIONS

Hotels in Other Destinations