China Hotels >> Wenzhou Hotels >> Binhai Grand Hotel, Wenzhou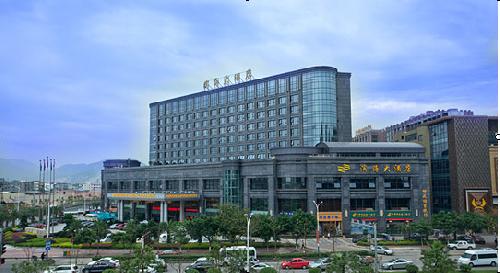 Address:
4567 Yongqiang Road, Longwan Zone, Wenzhou

Location:
Distance from railway station: 20km, distance from airport: 4.

Hotel Description:
Binhai Hotel is located in Yongqiang Avenue Longwan District, Wenzhou, jointing with the Ouhai Boulevard, Airport Boulevard, and is just four kilometers from Wenzhou Yongqiang Airport, 25 kilometers from Wenzhou South Station. This hotel, as the first foreign luxury business hotel in Longwan District Wenzhou City, is built according to the national five-star standard with elegant surroundings and strategic location. There are rooms, restaurants, conference rooms, entertainment places, and spots for business and relaxation in the hotel. 341 luxurious rooms of various features together with Yuzhenxuan Chinese Restaurant, Milan Western Restaurant, Lobby Bar, and Coastal Hall, Yongqiang Hall, Wenzhou Hall and other dining and meeting spaces are set in the hotel. There also set a business center and an executive floor, which can meet all your business needs, allowing initiative dealing of affairs. The modern decoration of Binhai Hotel combining Chinese and Western styles is showing the luxury in simple way. The hotel stands for your distinctive tastes for both hotel and professional five-star services.
Facilities Hotel:
LOCATION - The Hotel distances from principal landmarks: (distances resulting from the map)
To Wenzhou Yongqiang Airport about 2.52km,
To Xincheng Station about 15.5km,
To Wenzhou International Exhibition Center about 15.98km,
To New South Station about 16.14km,
To Wenzhou Railway Station about 16.25km,
To Wuma Street about 20.05km,
To Jiangxin Island about 23.06km,
To Wenzhou Railway South Station about 24.63km,

*** Click the link you can find other hotels close to the same landmark

Others China Cities
TOP TEN DESTINATIONS

Hotels in Other Destinations