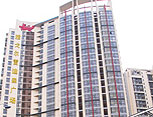 Address:
No.535, Shenhu Road, Industry Zone, Suzhou

Location:
Away from Hongqiao airport:90km Away from Suzhou train station:11km Away from city center:8km Away from Jin Ji Lake:1km

Hotel Description:
The Youngor Central Hotel (Yageer fugong dajiudian) is 4 star hotel located in the Guanqian area, the best location in downtown of Suzhou. There is about 2km from Suzhou railway station. The hotel owns 200 guestrooms, all rooms are nicely decorated and equipped with satellite television, free internet access, personal safe case, electronic lock and minibar, etc. The Chinese restaurant serves Hangzhou, Cantonese and western food. There are several meeting rooms and a multi-functional business center. For recreation, the hotel has a billiards room, mini golf, gym and beauty salon.