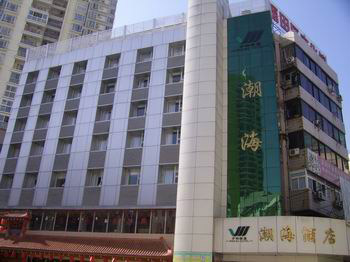 Address:
No.81, Fuan Street, Fuhua Road Futian District, Shenzhen

Location:
Away from train station:6km Away from airport:34km

Hotel Description:
The hotel is located in the business center --Huaqiang Business Zone. There is only 10minutes from the hotel to Gaojiao exhibition center, train station, city center park, window of the world, Chinese Folk Culture Village, Happy Part. It is near the clothing market of Futian District and health center. The transportation is convenient and the location is superior. It is your best choice for business and leisure trip. The hotel owns 55 sets of guest rooms, including single room, twin room, standard room. The facilities are complete. The hotel has trait twin room—one living room and one sitting room. The hotel can provide you service for business and train and flight ticket booking. The restaurant room in the first floor can provide you with special dishes.
Facilities Hotel:
LOCATION - The Hotel distances from principal landmarks: (distances resulting from the map)
To North Huaqiang business center about 0.9km,
To ShenZhen Industrial Exhibition Center about 1.06km,
To Shenzhen Convention & Exhibition Center about 2.19km,
To Shenzhen Museum about 2.4km,
To Grand Theatre about 2.72km,
To Shenzhen Stadium about 2.91km,
To Luohu Border Check Point about 3.57km,
To Shenzhen railway station about 3.59km,
To East Gate Street, Shenzhen about 4.06km,
To Dongmen Food Street about 4.27km,
To Garden Expo Park about 7.4km,
To Overseas Chinese Town about 9.25km,
To Splendid China about 9.43km,
To Shenzhen North Railway Station (High Speed Station) about 9.44km,
To Fairy Lake Botanical Garden about 9.46km,
To Happy Valley about 10.84km,
To Window of the World about 11.12km,
To High Tech Industrial Park about 12.82km,
To Shenzhen Safari Park about 13.04km,
To Bay Sport Center about 13.53km,
To Sea World Site about 17.63km,
To Shekou Ferry Terminal about 18.38km,
To Mission Hills Golf Club about 22.82km,
To Xiaomeisha Beach about 24.56km,
To Dameisha Beach about 24.58km,
To Shiyan Lake Hot Spring Resort about 25.82km,
To Shenzhen Baoan Airport about 29.51km,
To Dapeng Ancient City about 45.04km,
To Sunmen Island about 48.73km,

*** Click the link you can find other hotels close to the same landmark

Others China Cities
TOP TEN DESTINATIONS

Hotels in Other Destinations