China Hotels >> Shenzhen Hotels >> Orient Sunseed Hotel- Shenzhen Airport Branch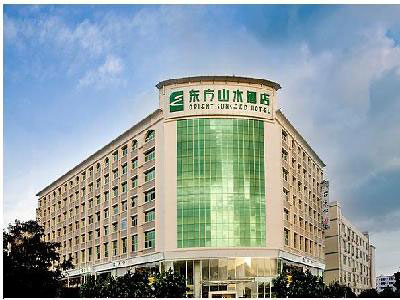 Address:
Qiaotou Fuyong Town, BaoAn District

Location:
3km from Bao'an Airport.

Hotel Description:
Dongfang Shanshui Jiudian Shenzhen Jichang Dian is a large scale and fully functional boutique style business hotel in Fuyong, Bao'an of Shenzhen, it becomes a bright landscape in Shenzhen Tourism. Hotel is located close to the Lixin Reservoir and Guangshen Highway in the Bao'an District of Shenzhen. It is very close to Shenzhen's Boan Airport, 15 minutes from the Hong Kong and Macau Ferry Terminal, and about 30 minutes from other attractions such as Window of the World, Splendid China, and Happy Valley. Opened in 2008, the 8-story hotel provides 208 guest rooms, equipped with high-speed broadband Internet, air conditioning, direct-dial telephones, refrigerators, mini bars, bottled water and electric kettles. Bathrooms feature bathrobes, hair dryers, slippers, and complimentary toiletries. The hotel has a restaurant and a coffee shop. It offers complimentary airport transportation, currency exchange, ticket service, and free internet access in public areas. It also features conference facilities, a banquet hall and a business center.
Facilities Hotel:
LOCATION - The Hotel distances from principal landmarks: (distances resulting from the map)
To Shenzhen Baoan Airport about 4.59km,
To Shiyan Lake Hot Spring Resort about 11.82km,
To Shenzhen Safari Park about 20.3km,
To High Tech Industrial Park about 21.59km,
To Bay Sport Center about 23.85km,
To Happy Valley about 23.99km,
To Window of the World about 24.16km,
To Sea World Site about 25.18km,
To Shenzhen North Railway Station (High Speed Station) about 25.29km,
To Shekou Ferry Terminal about 25.46km,
To Overseas Chinese Town about 25.59km,
To Splendid China about 25.96km,
To Garden Expo Park about 26.94km,
To Mission Hills Golf Club about 29.18km,
To Shenzhen Convention & Exhibition Center about 31.68km,
To Shenzhen Stadium about 33.38km,
To ShenZhen Industrial Exhibition Center about 33.7km,
To North Huaqiang business center about 33.75km,
To Shenzhen Museum about 35.06km,
To Grand Theatre about 35.36km,
To Dongmen Food Street about 36.25km,
To East Gate Street, Shenzhen about 36.4km,
To Luohu Border Check Point about 36.76km,
To Shenzhen railway station about 36.8km,
To Fairy Lake Botanical Garden about 39.84km,
To Dameisha Beach about 53.85km,
To Xiaomeisha Beach about 53.86km,
To Dapeng Ancient City about 74.49km,
To Sunmen Island about 80.69km,

*** Click the link you can find other hotels close to the same landmark

Others China Cities
TOP TEN DESTINATIONS

Hotels in Other Destinations