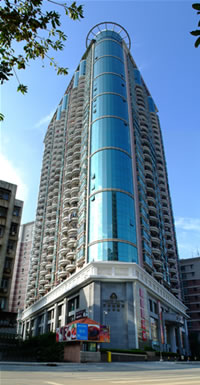 Address:
No. 183, Taining RD, Luohu District, Shenzhen, Guangdong, China.

Location:
It is about 42 kilometers from the airport and 6 kilometers from the Shenzhen railway station.

Hotel Description:
The Master Hotel is apartment hotel which is attached to Master Industry Ltd. The hotel is located in Luohu District-Baishida community. People here can enjoy wonderful scenery of Donghu Lake and Shenzhen reservoir. The traffic is so convenient. The driving distance fom the hotel to railway station and Luohu Kou Bank is 10 minutes and 40 minutes to airport. Jizhidao Shopping Center and Nancheng Shopping Square. The Master Hotel is adjacent to Shuibei International Jewellery Fair Center and Wanshan Jewellery Industry Park. 35-story building provides hall and Maste deluxe lobby. The second floor and third floor stand banquet rooms and multifunction conventions. Guest rooms stands more than the third story. The design of the hotel is accordent with four-star standards with full facilities and decoration in apartment style. The Master Hotel offers 130 guest rooms including suites, deluxe suites and executive suites. The room is equipped with bedroom, living room, kitchen, balcony, desk, broadband internet access and digital CATV. The hotel provides commomn facilities such as washing machine in order to people rent for a long time. Guest rooms in executive story are equipped with modern kitchenwares. The service target of the hotel is comfortable, satisfactory, convenient and timely. The Master Hotel is your best choice for business, recreation and vocation. The Master Hotel provide 8 deluxe presidential banquet boxs with elegant decoration and modern facilities, 14 ambassador boxes and deluxe hall covering 300 people. The famouse Hongkong cookers will cook varous cuisines such as Yue Cuisine, Hongkong Cuisine and Chuan Cuisine. Welcome guests to taste delicious food and feel top service in the hotel.
Hotel Video:

Facilities Hotel:
Meeting facilities, Business center, Gift shop, Beauty salon, Chinese cuisine, Foot massage

LOCATION - The Hotel distances from principal landmarks: (distances resulting from the map)
To Fairy Lake Botanical Garden about 2.74km,
To Dongmen Food Street about 2.84km,
To East Gate Street, Shenzhen about 3.27km,
To Grand Theatre about 4.4km,
To Shenzhen Museum about 4.66km,
To Shenzhen Stadium about 4.72km,
To Luohu Border Check Point about 4.97km,
To Shenzhen railway station about 5.04km,
To ShenZhen Industrial Exhibition Center about 5.89km,
To North Huaqiang business center about 6.04km,
To Shenzhen Convention & Exhibition Center about 9.03km,
To Shenzhen North Railway Station (High Speed Station) about 12.03km,
To Garden Expo Park about 13.76km,
To Overseas Chinese Town about 15.6km,
To Splendid China about 15.94km,
To Happy Valley about 17.03km,
To Shenzhen Safari Park about 17.41km,
To Window of the World about 17.44km,
To Xiaomeisha Beach about 18km,
To Dameisha Beach about 18.01km,
To High Tech Industrial Park about 18.63km,
To Bay Sport Center about 20.1km,
To Mission Hills Golf Club about 20.4km,
To Sea World Site about 24.46km,
To Shekou Ferry Terminal about 25.24km,
To Shiyan Lake Hot Spring Resort about 28.14km,
To Shenzhen Baoan Airport about 33.97km,
To Dapeng Ancient City about 38.75km,
To Sunmen Island about 43.5km,

*** Click the link you can find other hotels close to the same landmark

Others China Cities
TOP TEN DESTINATIONS

Hotels in Other Destinations