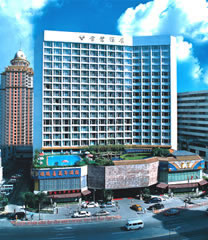 Address:
No. 3002 Chunfeng Road, Shenzhen

Location:
Golden Lustre Hotel is just 2 minutes drive from Luohu Custom and Shenzhen Railway Station. 40.5kms from the Airport; 1.5kms from Shenzhen Railway Station; 1.5kms from the city center; 1km from Eastern Gate Commercial Pedestrian Shopping Street.

Hotel Description:
Golden Lustre Hotel, located at Shenzhen Commercial Center, is a 4-star international comprehensive business hotel that boasts the integration of tourism, commerce, catering and recreation. There are numerous large-scale business mansions, offices and shopping malls as well as more than ten restaurants, bars and night clubs which serve all kinds of cuisines from various regions, around the Golden Luster Hotel. Golden Luster Hotel was opened on Aug. 28 of 1988 and in the same year was awarded the "Shenzhen Top 10 Hotels" prize and has been awarded the "Shenzhen Excellent Hotel" prizes in tourism, public security and health care during the succeeding years. With the tenet "People-oriented, Guests First", Golden Luster Hotel enjoys a marvellous reputation and public praise as well as a lot of long-standing stable commercial guests and large-scale and medium meeting communities of all kinds in Shenzhen, Hongkong, Macao and other areas. Since the opening of Golden Lustre Hotel, with "Optimizing Management, Practical and Efficient, Deploitation and Development" as its business method, Golden Lustre Hotel strives to improve managerial capability. Almost 90 percent of the managerial staff has acquired the "Specialized Qualification Certificate" awarded by the National Tourist Department.
Facilities Hotel:
LOCATION - The Hotel distances from principal landmarks: (distances resulting from the map)
To East Gate Street, Shenzhen about 1.12km,
To Dongmen Food Street about 1.51km,
To Luohu Border Check Point about 1.51km,
To Shenzhen railway station about 1.56km,
To Grand Theatre about 2.12km,
To Shenzhen Museum about 2.44km,
To ShenZhen Industrial Exhibition Center about 3.93km,
To North Huaqiang business center about 3.96km,
To Shenzhen Stadium about 4.13km,
To Fairy Lake Botanical Garden about 5.37km,
To Shenzhen Convention & Exhibition Center about 6.86km,
To Garden Expo Park about 12.09km,
To Shenzhen North Railway Station (High Speed Station) about 12.58km,
To Overseas Chinese Town about 13.94km,
To Splendid China about 14.12km,
To Happy Valley about 15.52km,
To Window of the World about 15.81km,
To Shenzhen Safari Park about 17.16km,
To High Tech Industrial Park about 17.43km,
To Bay Sport Center about 18.21km,
To Xiaomeisha Beach about 20.01km,
To Dameisha Beach about 20.03km,
To Sea World Site about 22.16km,
To Shekou Ferry Terminal about 22.88km,
To Mission Hills Golf Club about 23.3km,
To Shiyan Lake Hot Spring Resort about 29.13km,
To Shenzhen Baoan Airport about 33.79km,
To Dapeng Ancient City about 40.38km,
To Sunmen Island about 44.11km,

*** Click the link you can find other hotels close to the same landmark

Others China Cities
TOP TEN DESTINATIONS

Hotels in Other Destinations