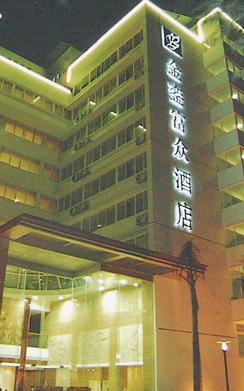 Address:
Kangle Road 1, Shekou, Nanshan District, Shenzhen

Location:
Located in Shekou industry park, 8-min-walk to Sea World, 3km (5-min-drive) to Shekou bus station/shekou harbor, 30km (30-min-drive) to Baoan International Airport, 20km (25-min-drive) to Futian District, 25km (30-min-drive) to Luohu center

Hotel Description:
Opened in 2007, Fuzon Hotel Shenzhen was built by the standard of four-star European architectural style. And provided with elegantly designed 198 comfortable guest-rooms in the hotel which is 10 floors height with multi-function such as restaurant,sauna,saloon,and business centre. The hotel is adjacent to the Sea World, the Feima bus stop (to Guangzhou directly), Shekou Port, as well as the ferry port to Hong Kong, Macau, and the inland. It is next to the Shekou peninsula which is a subtropical paradise. It takes 18 minutes driving to Overseas Chinese Town, 30 minutes to Shenzhen airport and Luohu railway station. The access is very convenient and advanced with all the advantages of the west Shenzhen logistics zone. The business centre provides with typewriter, photocopy, fax, translation and other professional secretarial services. Tickets affair is provided by the service center at the first floor. It helps our costumers to reserve tickets of flight, railway, as well as ferry to Hong Kong. It also provides the service of travel reservation and visa application. Our concierge also provides information and services for car hire, email, express, medicine help, and baggage service.
Facilities Hotel:
LOCATION - The Hotel distances from principal landmarks: (distances resulting from the map)
To Sea World Site about 0.46km,
To Shekou Ferry Terminal about 1.29km,
To Bay Sport Center about 4.69km,
To Window of the World about 7.61km,
To Happy Valley about 8.25km,
To Splendid China about 8.48km,
To High Tech Industrial Park about 8.5km,
To Overseas Chinese Town about 9.04km,
To Garden Expo Park about 10.69km,
To Shenzhen Safari Park about 13.21km,
To Shenzhen Convention & Exhibition Center about 15.19km,
To Shenzhen North Railway Station (High Speed Station) about 17.29km,
To North Huaqiang business center about 18.23km,
To ShenZhen Industrial Exhibition Center about 18.34km,
To Shenzhen Stadium about 19.53km,
To Shenzhen Museum about 19.75km,
To Grand Theatre about 20.07km,
To Shenzhen Baoan Airport about 20.27km,
To Shenzhen railway station about 20.51km,
To Luohu Border Check Point about 20.53km,
To East Gate Street, Shenzhen about 21.41km,
To Dongmen Food Street about 21.63km,
To Shiyan Lake Hot Spring Resort about 24.15km,
To Fairy Lake Botanical Garden about 26.79km,
To Mission Hills Golf Club about 32.22km,
To Xiaomeisha Beach about 41.9km,
To Dameisha Beach about 41.92km,
To Dapeng Ancient City about 62.21km,
To Sunmen Island about 64.83km,

*** Click the link you can find other hotels close to the same landmark

Others China Cities
TOP TEN DESTINATIONS

Hotels in Other Destinations