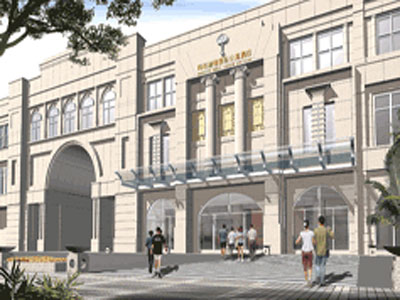 Address:
No.2 Building, West district of Margaret Commercial Center, North of Jiefang Road, Yuecheng District, Shaoxing

Location:
from the city center: 1 KM; from the railway station: 0.2 KM; from the airport: 30 KM

Hotel Description:
Margarita Hotel is located in Shaoxing International Commercial Center, the west side of Margaret Place, which is the first full -style apartment hotel in Shaoxing, sought to creat a new hotel brand. Shaoxing Margaret has a different style of hotel rooms, from program design to the specific functional layout, a large number of research and feasibility studies have been demonstrate, and strive to the best quality, per-room design source from personal experience, focus on detail, easy warmth of the environment, fashion simple furniture, the kitchen set up fine, but also highlights creativity of modern home, providing a safe and comfortable hardware environment for the guests .Settle down in the comfortable environment, as if stay the home, find a home warmth. Smart design of the lobby, accompanied by light music, has a rest in a warm rest areas, like travel long time back to home. Opening room, intelligent lockstitch make people gain more sense of security in the door of the room. Large glass wall of the room incorporate the subtle beauty of the outdoors into their own, the tired of the journey was released in an instant. Rooms for business guests tailor-designed to meet their needs of the whole, at any time become the embodiment of the flow of OFFICE. Feel like home as they can concentrate on work; enjoy the comfort at the same time. Thermocline-style rooms are bright and spacious, comfortable and quiet.More The restaurant provides a feast of visual and taste, good nutrition breakfast, scientific and reasonable meal for a day added to the working life of the infinite power .Audio-visual sound, lighting equipment, a full range of multimedia can support for the opening of the meeting. Marguerite Hotel Shaoxing commands people-oriented principle of service, regards service as a smart art. Nuanced services come from attention to detail. Here, the breakthroughs in the original norms and procedures, without losing details in busy, show personality in the specification, reflected high-quality in the plain, so that guests not only enjoy the satisfaction, but also more surprises. A cordial greetings and a sincere smile, a professional bow from waiters, people can feel cordial and intimate everywhere. Concern, efficient, courteous and thoughtful purpose, when you enter the hotel get service is carefully, clever design, as well as arranged for you. In Margaret, standardization is the foundation, is the characteristics of personality.