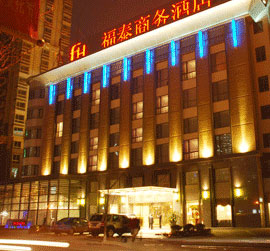 Address:
No.88 Yili road Changning district, Shanghai.

Location:
Forte Shanghai Hotel is in the hearth of Hongqiao business area, 7 km from Hongqiao Airport. It is close to Parkson Shopping Center, Shanghai International Exhibition Center, Zhongshan Park. The downtown is not far, People's Square is at 15 minute drive.

Hotel Description:
Shanghai Forte business Hotel is located at Hongqiao economical and commercial center of west area, the interchange between Neihuan high frame and Yanan high frame, the trafficis very convenient. Hongqiao economical and commercial center is the earliest economical development in Shanghai, there are many business buildings and the investment environment is excellent. Morever, there is grand exposition museum like Shanghai international exposition center, world trade business town, which is one of the most developed area in Shanghai. Hotel has Chinese and western restaurants that can meet your various needs. Mizhuo wine corridor is the best choice for businessman to have a little wine, in addition, there are many big or small meeting halls which are used for average or small style meeting, lecture and dinner of meeting private person etc.
Facilities Hotel:
LOCATION - The Hotel distances from principal landmarks: (distances resulting from the map)
To Shanghai International Exhibition Center about 0.46km,
To Shanghaimart about 0.62km,
To Argentina Shanghai Consulate about 0.66km,
To Consulate-General of Japan in Shanghai about 0.67km,
To Yuyintang Live Music about 1.35km,
To Old Shanghai Red Town about 1.66km,
To Consulate General of Switzerland about 1.68km,
To Hongmei Street about 2.06km,
To Pearl City Market about 2.4km,
To Gateway Plaza about 2.9km,
To Ferguson Lane about 3.15km,
To Xujiahui about 3.23km,
To Shanghai Everbright Convention & Exhibition Center about 4.15km,
To Sogo Dep. Store about 4.61km,
To Zhongshan Road about 4.79km,
To Paramount Party about 4.98km,
To Longhua Temple and Pagoda about 5.17km,
To Canadian Consulate General Shanghai about 5.19km,
To Consulate General of Finland, Shanghai about 5.61km,
To Shanghai South railway station about 5.62km,
To Shanghai Hongqiao International Airport about 5.63km,
To Nanjing Road about 5.63km,
To Jingan Temple about 5.63km,
To Jade Buddha Temple about 5.84km,
To Huaihai Zhong Lu about 5.96km,
To French Concession about 6km,
To Taikang Terrace about 6.98km,
To Banyan Tree Spa about 6.98km,
To Shanghai Railway Station about 7.03km,
To Xintiandi Nightlife about 7.07km,
To Lupu Bridge Platform about 7.12km,
To Shanghai Museum about 7.22km,
To Shanghai People's Square about 7.35km,
To Raffles Square about 7.5km,
To Shanghai Hongqiao Railway Station about 8.19km,
To Yuyuan Garden about 8.6km,
To Town god's temple about 8.6km,
To Xin Qipu Market about 8.71km,
To Xing Wang Market about 8.77km,
To The Bund about 8.84km,
To The Norwegian Consulate General in Shanghai about 8.87km,
To Bund Sightseeing Tunnel about 8.93km,
To Russian Consulate General in Shanghai about 9.33km,
To Shiliupu Wharf about 9.42km,
To Super Brand Mall about 9.55km,
To Lujiazui Finance & Trade Zone about 9.7km,
To Oriental Pearl TV Tower about 9.85km,
To Huangpu by night about 10.36km,
To Stadium Concerts about 10.4km,
To Science Tech. Museum about 12.93km,
To Asia Pacific Plaza about 13.14km,
To Shanghai New International Expo Centre (SNIEC) about 15.1km,
To National (Shanghai) Center for Exhibition and Convention NCEC about 16.32km,
To Waigaoqiao Free trade zone about 23.23km,
To Formula 1 Race track Circuit about 23.57km,
To Shanghai Automobile Exhibition Center(SAEC) about 24.12km,
To Songjiang Mosque about 27.69km,
To Shanghai Pudong International Airport about 37.37km,

*** Click the link you can find other hotels close to the same landmark

Others China Cities
TOP TEN DESTINATIONS

Hotels in Other Destinations