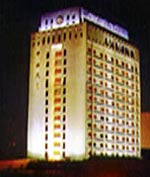 Address:
No.200 Zhongshan Road, Nanjing, Jiangshu P.C 210008

Location:
To Airport: 43km; To Railway Station: 4.5km; To City Center: 1km; To New Street: 1km Surrounding landscape: Xuanwu Lake, Presidential Palace, Jinyin Shopping Center, Jinling Shopping Center, Xinbai, Orient Market

Hotel Description:
The Zhongshan Hotel, located in the city center of Nanjing, is a high-standard international commercial hotel. Its elegant environment, modern facilities and superb service will make you feel right at home. Luxury and a romantic Western ambience is perfectly mixed with traditional Chinese culture in the lobby, through elaborate decoration as well as thoughtful service. The outstanding Health and Recreational Center with comprehensive facilities will ensure you stay in shape. The sauna and beauty salon always provides our guests with relaxation and leisure. Your choice is our choice at this exquisite shopping arcade. We promise our guests never experience a dull moment at this 4, 000 square meter shopping paradise assembled with various commodities from home and abroad.
Hotel Video:

Facilities Hotel:
Conference Room; Exhibition Hall; Business Centre; Coffee Shop; Bar; 5 Restaurant; Money Change; Baby Sitter; Swimming Pool; Sauna; Solarium; Beauty; Clinic; Massage; Steam Bath; Tennis; Handicap. Facilities; Credit Card; Ticket Agency; Shopping Arcade; Flower Shop; Car Parking; Laundry Service; Ballroom; Chess

LOCATION - The Hotel distances from principal landmarks: (distances resulting from the map)
To Xin Jiekou about 0.98km,
To Confucius Temple about 3.3km,
To Nanjing Railway Station about 4.34km,
To Nanjing Lukou International Airport about 36.19km,

*** Click the link you can find other hotels close to the same landmark

Others China Cities
TOP TEN DESTINATIONS

Hotels in Other Destinations