China Hotels >> Nanjing Hotels >> Nanjing Baliyuansu.Vogue Hotespring Hotel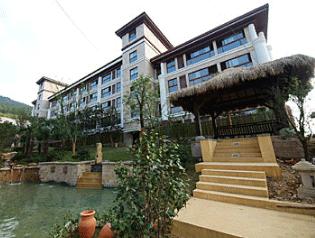 Address:
No.228 Houjiatang Guquan Village, Tangshan Town, Jiangning District, Nanjing

Location:
25km from Nanjing Railway Station; 45km from Nanjing Lukou International Airport; 22km from City center.

Hotel Description:
Nanjing Baliyuansu.Vogue Hotespring Hotel (Nanjing Baliyuanshu Wenquan Huiguan) is located on the mountainside. This Nanjing hotel features abundant hot spring facilities including a hot spring massage pool, a hot spring swimming pool, sauna rooms and massage rooms. The hotel is also staffed with therapists providing guests with various spas including Bali-style, herbal medicine massages and warm stone massages. The restaurant is well-known for its shark's fin soup, abalone and other seafood. Sichuan, Cantonese, local dishes and dim sum are also on offer. Conference rooms of various sizes and a VIP lounge cater to business travelers.
Facilities Hotel:
LOCATION - The Hotel distances from principal landmarks: (distances resulting from the map)
To Nanjing Railway Station about 21.04km,
To Confucius Temple about 21.54km,
To Xin Jiekou about 21.74km,
To Nanjing Lukou International Airport about 37.62km,

*** Click the link you can find other hotels close to the same landmark

Others China Cities
TOP TEN DESTINATIONS

Hotels in Other Destinations