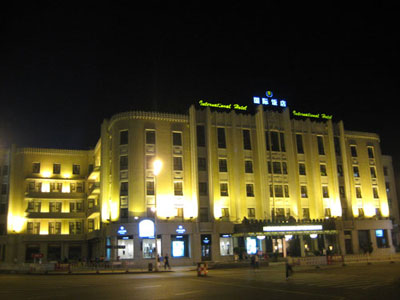 Address:
No.4, West Dazhi Street, Harbin

Location:
Away From downtown:0.1km Away From railway station: 1km Away from the airport:30km Away from the International Snow Sculpture Art Exposition: 20 minutes by car Away from Sun Island: 20minutes by car Away from Zhao Lin Park: 10mintues by car

Hotel Description:
Harbin International Hotel , completed and opened to business in 1937, got its present name in 1978. Since the beginning it has received several Party and State leaders as well as renowned celebrities from home and abroad. Located in the city center, with convenient transportation and beautiful environment, it has been newly decorated with a total of 128 rooms including commercial standard rooms, luxurious suites. In the hotel you can find lobby bar, commercial center, shopping emporium, beauty saloon, meeting rooms, sun bar, dining rooms, the banquet hall, etc. The hotel is now under the full management of the Jinjiang International Management Co., Ltd.