China Hotels >> GuangZhou Hotels >> South America Grand Hotel,Guangzhou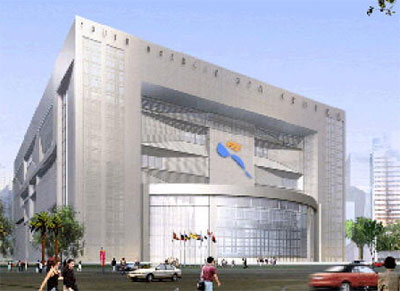 Address:
No. 16 Haiming street Binjiang west road Haizhu zone, Guangzhou.

Location:
Distance from city center(yuexiu area): 4.99km, Distance from city center(tianhe area):8.67km; distance from railway station: 6.51km, distance from east railway station:13.85km; distance from new baiyun airport: 38.77 km; distance from pazhou exhibition:14.45km, distance from liuhua exhibition:6.16km

Hotel Description:
South America Grand Hotel is an idle and business hotel, the operating area is 38, 000square meters, you can have a panoramic view of the both sides sightseeing, it is a good place for you to appreciate Guangzhou beautiful sceneries. Grand hydrotherapy entertaining facilities make you feel healthy and comfortable, buffet dinner that synthesizes Chinese and western styles. Chess room, KTV, cinema, gym, ball room, wine bar, cigar bar, multi-media muse space and space sleeping zone, which create an abundant entertaining space for you. VIP club is made up of psychological consultation, dietitian, aerobics coach and doctor that can attend your health completely.
Facilities Hotel:
LOCATION - The Hotel distances from principal landmarks: (distances resulting from the map)
To Bars in Binjiang Lu about 0.46km,
To Guangzhou Culture Park about 0.64km,
To Bars in Bai'e Tan about 1.07km,
To Green Xiguan Dawu Community about 1.11km,
To Business Zone of Shangxiajiu Road about 1.27km,
To Sacred Heart Cathedral (Seksat Church) about 1.28km,
To Shamian Scenic Spot about 1.31km,
To Qingping Market about 1.31km,
To Jiangnan Business Zone about 2.28km,
To Beijing Road Business Zone about 2.71km,
To Temple of Six Banyan Trees about 2.9km,
To Sun Yat-sen Memorial Hall about 3.6km,
To Business Zone, Renming Road about 3.61km,
To Pearl River about 3.62km,
To Zhenhai Tower about 4.09km,
To Chinese Export Commodities Fair Liuhua Complex about 4.2km,
To Yuexiu Park about 4.41km,
To Guangzhou Train Station about 4.83km,
To Statue of Five Goats about 4.99km,
To Nanyue King Tomb Museum about 5.3km,
To Bars in Huanshi Lu about 5.43km,
To Canton Tower Guangzhou TV Tower about 7.56km,
To Guangzhou Opera House about 7.63km,
To Guangdong Provincial Museum about 7.87km,
To Tianhe Staium about 8.49km,
To Baiyun Scenic Spot about 8.74km,
To CITIC Plaza about 8.8km,
To Guangzhou East Train Station(TianHe District) about 9.14km,
To Chinese Export Commodities Fair Pazhou Complex, Guangzhou about 11.39km,
To Xiaozhou Village of Guangzhou about 12.07km,
To Chimelong Paradise Park about 13.53km,
To South China Botanical Garden about 13.8km,
To Nanhu Amusement Park about 15.41km,
To Guangzhou Grand World Scenic Park about 17.95km,
To Sun Island Amusement Park about 25.49km,
To Lotus Hill about 29.35km,
To Guangzhou New Baiyun International Airport about 30.28km,

*** Click the link you can find other hotels close to the same landmark

Others China Cities
TOP TEN DESTINATIONS

Hotels in Other Destinations