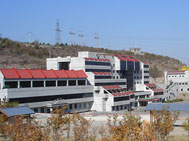 Address:
South Huancheng road, Shuangqiao Dstrict, Chengde (Sengguan Peak scenery area)

Location:
Distance from Chengde railway station: 1.5km Distance from downtown: 3km

Hotel Description:
JinJiang Wenguan Hotel is a four star hotel which is first evaluated in Chengde. The hotel is located in the SengGuan Mountain scenery area, the famous tourist attraction in Chengde. Just 10 minutes way from the railway station and 15 minutes way from the summer resort, the hotel is surrounded by the green plants and flowers. With a total building area of 22, 000 square meters, the hotel boasts more than 200 parking spaces, 149 deluxe executive suites, deluxe standard rooms and single rooms, 73 economy rooms, 8 conference rooms with advanced facilities, banquet hall, and 18 private rooms, etc. And facilities such as swimming pool, night club, KTV private rooms, sauna center, chess&poker rooms, and business center are always at your service. Drinking and enjoying the scenic beauty around, you may reluctant to leave the hotel.