China Hotels >> Beijing Hotels >> N.E.Courtyard Hotel, Beijing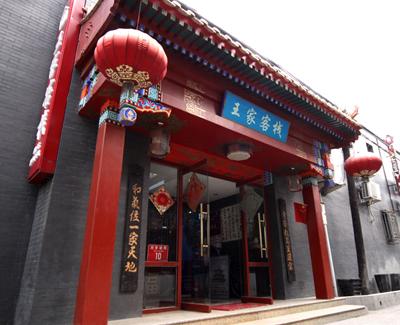 Address:
No.10 YueyaHutong, Dongsiliutiao, Dongcheng district, Beijing

Location:
The hotel is situated at the center of Beijing, next to subway stations which give quick access to Beijing' s key attractions and Olympic Venues. It takes 15 minute by subway, or 10 minutes by taxi from the hotel to Tianamen square. please take by taxi from train Beijing Station, about 20minutes about 25RMB, From Bejing Airport about 40minutes by subway to dongshi station, and walk to hotel about 10minutes

Hotel Description:
Your way to stay in Beijing, modern rooms with a touch of China. N.E.Hotel Beijing is a mix of the modern international stardard hotel with the best of Chinese style. Excellence of Services. Perfect for your business travel, with conference space for meetings and conventions. Our friendly international staff will assist you from the first day of your arrival until the departure in English and Chinese. The way you like it! We are ready to assist 24/7, including travel and gourmet guidance, helping you to enjoy the best of the capital of China. Modern and styled Rooms.Our rooms was created to fit in your standard of confort and convinience. each one named with a traditional Chinese novel. All rooms are full furnished, well equipped. King size or single beds.Spacious western style individual bathrooms with all confort.The hotel provides all the elements to make your stay more comfortable like: Wireless internet access (all Hotel). Cable television. Air-conditioning. Microwave oven.24/7 guest assistant.Cleaning service.Towels.Security.Space for Meetings (N.E Cafe Space)King Beds and much more...Breakfast is available. The hotel is situated at the heart of Beijing, next to a subway station, giving quick access to beijing' s key attractions and Olympic Venues. taking a 15 minute ride by subway, or 10 minute taxi ride to Tianamen square and others. Wangfujing, Houhai bar, Sanlitun bar, the center of Beijing.The hotel is situated at a short distance from Houhai bar area. Famous in Beijing for its nightlife, full of small bars and pubs with character or enjoy a romantic night boat ride under the glow of lights over the lake.Around the hotel are plenty of traditional teahouses, cafes, and restaurants offering the new comers the opportunity to taste Beijing' s excellent and varied cuisine. The courtyard hotel also gives the opportunity to visitors to interact with local people in the area and other visitors therefore enhancing your experience in Beijing.
Facilities Hotel:
LOCATION - The Hotel distances from principal landmarks: (distances resulting from the map)
To Temple of Confucius about 0.97km,
To Hou Hai Bar Street about 1.09km,
To The National Art Museum about 1.12km,
To Yonghe Lamasery (Lama Temple) about 1.24km,
To Bell and Drum Towers about 1.34km,
To Shichahai Lakes about 1.51km,
To Beihai Park about 1.85km,
To Jingshan Park about 1.91km,
To Wangfujing Street about 2.37km,
To The Forbidden City about 2.64km,
To Tiananmen Square about 3.48km,
To Zhongnanhai about 3.51km,
To Dongyue Taoist Temple about 3.6km,
To National Museum of China about 3.94km,
To Xidan Business Street about 4.13km,
To Jianguomenwai Street about 4.14km,
To The Memorial Hall of Chairman Mao about 4.15km,
To Beijing Railway Station about 4.22km,
To Beijing North Railway Station or Xizhimen Station about 4.22km,
To silk market beijing about 4.24km,
To Beijing Planetarium about 4.31km,
To Beijing Concert Hall about 4.32km,
To Sanlitun Bar Street about 4.34km,
To China International Exhibition Center about 4.35km,
To Dongsi Road about 4.51km,
To Da Du Bar Street about 4.58km,
To Traditional Chinese Medicine Museum about 4.77km,
To Zhengyici Peking Opera Theatre about 4.88km,
To Chaoyang Theatre Acrobatics Show about 5.13km,
To Beijing Exhibition Center about 5.18km,
To The China World Trade Center about 5.57km,
To Huguang Peking Opera Theatre about 5.62km,
To Tianqiao Acrobatics Theatre about 5.89km,
To Beijing National Agricultural Exhibition Centre about 5.99km,
To Temple of Heaven about 6.08km,
To Bejing Zoo & Aquarium about 6.09km,
To Museum of Natural History about 6.21km,
To National Aquatics Center(The Water Cube) about 6.37km,
To Beijing Capital Museum about 6.85km,
To The National Stadium(The Bird's Nest) about 7.07km,
To Beijing South Railway Station about 7.32km,
To Grand View Garden about 8.32km,
To Beijing West Station about 8.46km,
To Beijing 798 Art Zone about 9.16km,
To Happy Valley Amusement Park about 10.61km,
To Wukesong Indoor Stadium about 10.96km,
To Yuanmingyuan Old Summer Palace about 12.35km,
To Summer Palace about 13.39km,
To BeiJing NanYuan Airport about 14.57km,
To New China International Exhibition Center(NCIEC) about 19.29km,
To Fragrant Hills Park (Xiangshan Park) about 20.1km,
To Beijing Capital International Airport about 22.18km,
To Ming Tombs about 38.62km,
To Badaling Great Wall about 57.01km,

*** Click the link you can find other hotels close to the same landmark

Others China Cities
TOP TEN DESTINATIONS

Hotels in Other Destinations