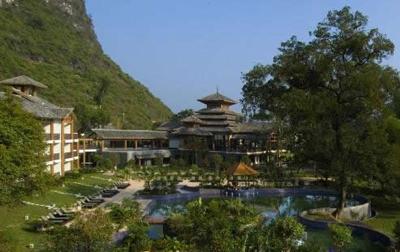 Address:
North Side of the Gongnong Bridge (Gongnong Qiao Bei Ce) ,Gaotian Town,Yanshuo

Location:
Distance from Guilin Railway Station:75km,about 90 minutes' drive; Distance from Guilin Liangjiang International Airport:95km,about 120 minutes' drive; Distance from Yanshuo Bus Station:6.5km,about 15 minutes' drive; Distance from Shiwai Taiyuan(Xanadu):20km,about 40 minutes' drive; Distance from West Street:6km; Distance from Impression Sanjie Liu:10km,about 15 minutes' drive; Near Yueliang Shan(Moon Hill)

Hotel Description:
The Yangshuo Resort Hotel (Yangshuo Hepan Dujia Jiudian) lies by the Yulong River, offering guests the beautiful views of mountains. Opened in 2009, this Yangshuo hotel hosts river-view guestrooms, equipped with central air conditioning, 24-hour hot water, safes and mini-bars. Besides, each room has an area of over 50 m2. For recreation and relaxation, guests can read books, have a refreshing spa and massage, take exercise at fitness center, or play a game of tennis. Additionally, this hotel provides a playground for children. Other facilities include the business center, CD players.