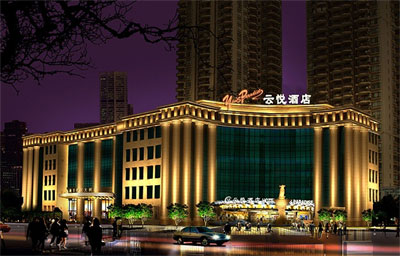 Address:
NO.789 East Fuxing Road, Huangpu District, Shanghai

Location:
Distance from Pudong airport: 55km Distance from Hongqiao airport: 30km Distance from Shanghai railway station: 8km (from the south station: 10km) Distance from the city center: 2km Distance from Yu Garden: 1km

Hotel Description:
Yun's Paradise" is a new hotel brand of the Harvest Festival Group; the first hotel is located at the center of downtown. You can experience the mixture of the prosperous of HuaiHai Road and the traditional culture of the Old City God's Temple. You can fully feel the times rhythm of the Eastern Paris---Shanghai. The decoration of the hotel is similar with world famous Boutique Style. The hotel has fashionable and European styled facilities, provide comfortable and instant service. Guests could enjoy the predominant location, private space, delicious food and considerate service with secondary price. The hotel guest rooms are all equipped with television, internet access port, central aircon, mini bar, and hair drier, etc. Located at center of downtown, it takes you just a few minutes from the hotel to the New World, the Bund, LuJiazui Financial Center, People's Square, and Yu Garden. The East FuXing Road and the East Yan'an Road Tunnel are also near at hand.
Facilities Hotel:
LOCATION - The Hotel distances from principal landmarks: (distances resulting from the map)
To Town god's temple about 0.52km,
To Yuyuan Garden about 0.79km,
To Shiliupu Wharf about 1.19km,
To The Norwegian Consulate General in Shanghai about 1.33km,
To Xintiandi Nightlife about 1.37km,
To The Bund about 1.44km,
To Shanghai Museum about 1.57km,
To Shanghai People's Square about 1.72km,
To Raffles Square about 1.76km,
To Bund Sightseeing Tunnel about 1.82km,
To Super Brand Mall about 1.82km,
To Lujiazui Finance & Trade Zone about 1.94km,
To Oriental Pearl TV Tower about 2.23km,
To Huaihai Zhong Lu about 2.33km,
To French Concession about 2.38km,
To Russian Consulate General in Shanghai about 2.48km,
To Huangpu by night about 2.65km,
To Xing Wang Market about 2.76km,
To Xin Qipu Market about 2.77km,
To Nanjing Road about 3.27km,
To Jingan Temple about 3.27km,
To Consulate General of Finland, Shanghai about 3.35km,
To Taikang Terrace about 3.62km,
To Banyan Tree Spa about 3.62km,
To Canadian Consulate General Shanghai about 3.65km,
To Lupu Bridge Platform about 3.67km,
To Paramount Party about 3.87km,
To Sogo Dep. Store about 4.08km,
To Shanghai Railway Station about 4.61km,
To Jade Buddha Temple about 4.8km,
To Science Tech. Museum about 4.9km,
To Zhongshan Road about 5.01km,
To Ferguson Lane about 5.1km,
To Asia Pacific Plaza about 5.12km,
To Stadium Concerts about 5.48km,
To Xujiahui about 5.75km,
To Gateway Plaza about 5.88km,
To Longhua Temple and Pagoda about 6.44km,
To Old Shanghai Red Town about 6.77km,
To Yuyintang Live Music about 7.11km,
To Shanghai New International Expo Centre (SNIEC) about 7.26km,
To Shanghai Everbright Convention & Exhibition Center about 8.39km,
To Argentina Shanghai Consulate about 8.39km,
To Shanghai International Exhibition Center about 8.43km,
To Consulate-General of Japan in Shanghai about 8.68km,
To Shanghaimart about 8.74km,
To Shanghai South railway station about 9.53km,
To Consulate General of Switzerland about 9.59km,
To Hongmei Street about 10.26km,
To Pearl City Market about 10.62km,
To Shanghai Hongqiao International Airport about 13.82km,
To Waigaoqiao Free trade zone about 15.32km,
To Shanghai Hongqiao Railway Station about 16.34km,
To National (Shanghai) Center for Exhibition and Convention NCEC about 24.51km,
To Formula 1 Race track Circuit about 28.8km,
To Shanghai Pudong International Airport about 30.25km,
To Shanghai Automobile Exhibition Center(SAEC) about 31.02km,
To Songjiang Mosque about 34.81km,

*** Click the link you can find other hotels close to the same landmark

Others China Cities
TOP TEN DESTINATIONS

Hotels in Other Destinations