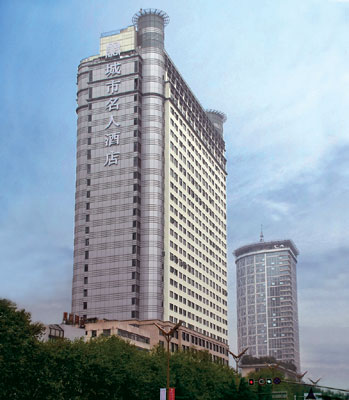 Address:
No.122-124, Section 1, Renmin South Road, Chengdu

Location:
Distance from city center: 0.5km, distance from railway station: 5km, distance from airport: 18km.

Hotel Description:
Already an icon in the city of Chengdu with its mammoth skyscraper structure, incorporating luxury exceeding international 5-star standards, this flagship of the Celebrity City Hotels & Resorts Management Group will push Chinese business hotel luxury, guest amenities and professional service standards to new heights. The Celebrity City Hotel Chengdu is conveniently located within the flourishing CBD (Central Business District) in the heart of Chengdu City - neighboring the Tianfu Square and Chengdu Cultural & Arts Center, adjacent to several shopping malls and bustling commercial street, 15 minutes from the north train station and approximately 20 minutes drive from the Chengdu International Shuangliu Airport. With this ideal location, the hotel is set to be the premium choice for tourists and business travelers. With a multi-national management team flawlessly integrating modern service concepts with traditional Chinese cultural merits and virtues, coupled with elitist architectural and luxurious designs, this establishment has become the pioneer of Chengdu business hotels in many aspects. The International Millionaires Club - a mega entertainment facility comprising of KTV, dining and recreational activities for your relaxation. Posh private halls with ultra-advanced song selection system and terabytes of multi-lingual popular songs from all eras to satisfy your desire to shine and be a star. Health & fitness center, fully-equipped recreational card & games room, swimming pool and private spa - maintain your health & fitness regime even when you are on the move. Our sauna & massage center, beauty parlor, and hydro-therapeutic center - your ultimate choice for premium services and total relaxation & rejuvenation of mind and body.