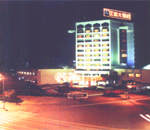 Address:
No.48, Yinjiang Road, Jiangdu, Yangzhou, Jiangsu

Location:
1km to the centre, 100km to the airport, 30km to the railway station, 30km to the port

Hotel Description:
Jiangdu Hotel is the only three star foreign travel hotel in Jiangdu, near the world famous key water-control project---The Grand Canal, Beijing-Shanghai Express Highway, just has 15km to the historic city---Yangzhou. The hotel is a business, conference, travel and leisure all rolled into one. Hotel has 108guestroom, which should meet all your requirements. The hotel has standard rooms, normal suites, business suites and deluxe suites, it also has no smoking floor, VIP floor, which will provide some free service. And the guestrooms are spacious and commodious, and furnished with profusiono and elegance. They are all equipped with IDD/DDD telephone service, air-conditioner, TV and so on. The hotel try to shou theit appreciation for guests we receive by providing your money's worth in service.