China Hotels >> Xian Hotels >> Days Hotel and Suites Xinxing Xi'an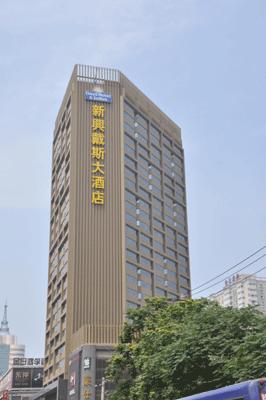 Address:
No.189 Jinhua North road, Xi'an, Shanxi

Location:
The hotel is on the crossing of East 2nd ring road and Changle road and adjoins the largest light industry and commerce circles on Northwest. It is 40km from airport and 5km from railway station.

Hotel Description:
Days Hotel & Suites Xinxing, Xi'an is a five-star hotel which belongs to Days Inn Worldwide (China), as well as one of the largest and highest level hotels on West district of China of brand of Day Inn. The theme of the hotel is Luxury, refined and comfortable and the hotel is suitable for middle or high-end public affairs, business, people deal with politics, fashionable crowd who demand for high quality and personalized life, and tourists. Founded in 1970, Days Inn is one of the international hotel chain management groups of Wyndham Hotel Group. Days Inn Worldwide (China) brought Days Inn to China in 2004 and now Day Inn has 5 brands on China, such as 3star hotel, 4star hotel, 5star hotel, business hotel and hotel apartment. They will provide excellent service which is better value for money. Now Days Inn has 72 hotels on mainland of China and it has been one of the fastest growing well-known international hotel management companies in China. The headquarter of Days Inn China is located on Beijing CBD business circle and has a team of highly professional management experience from home and aboard.
Facilities Hotel:
LOCATION - The Hotel distances from principal landmarks: (distances resulting from the map)
To Xi'an Railway Station about 2.95km,
To Xi'an City Wall about 4.42km,
To Bell Tower about 4.7km,
To Shaanxi History Museum about 6.38km,
To Shanan Xi International Exhibition Center about 6.41km,
To Big Wild Goose Pagoda(Dayan Ta) about 6.53km,
To Tang Paradise Theme Park about 6.61km,
To Shaanxi Province Stadium about 6.65km,
To Shaanxi Provincial TV Tower about 9.36km,
To North Train Station High Speed about 12.91km,
To Huaqing Hot Spring about 22.36km,
To Mausoleum of the First Qin Emperor about 27.02km,
To XI'an Xian Yang International Airport about 28.87km,
To Terra Cotta Warriors Museum about 29.61km,

*** Click the link you can find other hotels close to the same landmark

Others China Cities
TOP TEN DESTINATIONS

Hotels in Other Destinations