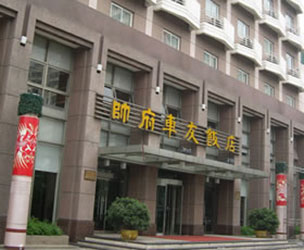 Address:
No.26 Longyang Avenue, Hanyang District, Wuhan

Location:
From the Wuhan Tianhe Airport: 25 km, about 30 minutes by car From the Hankou Railway Station: 7 km, about 10 minutes by car From Bus Station: 1 km, about 3 minutes From the exhibition center: 4 km, about 8 minutes by car From the port: 8 km, about 20 minutes by car Ambience: Huazhong car market, Qingchuan Court, Dongfeng Peugeot Citroen Automobile Company, the Yellow Crane Tower

Hotel Description:
Wuhan Marshal Palace Hotel is a wholly-owned invested by Hubei Province railway companies, it set business, leisure, travel, meeting as one comprehensive three-star business hotel. Wuhan Marshal Palace Hotel is located in the Wangjiawan commercial circle of Hanyang district, Wuhan. Across the street is a shopping mall and several supermarkets. A 15-minute drive brings guests to Wuhan Convention and Exhibition Centre and a 20-minute drive from Tianhe International airport. Hotel mainly with elegant room, simple European-style, crisp design style, now has 186 (set) guest rooms, with Chinese and Western restaurants, modern garden style, exudeing a fresh and honest rural atmosphere. Hotel has five multifunctional conference room, one can accommodate 150 people in the large conference hall, a medium-sized can accommodate 60 people conference hall, 3 rooms for a small conference room of 30 people; Hotel equipped with 17 chess room, it is an ideal choice for your business meetings, travel and leisure stay.