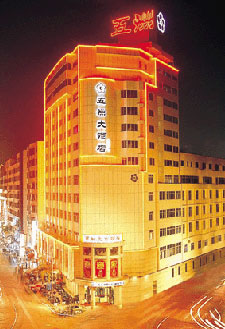 Address:
No.2, Zhengxin Road, Shishi, Fujian

Location:
Located downtown, 8km (12-min-drive) to airport

Hotel Description:
Fujian Shishi Wuzhou Hotel is a four- star tourist hotel with the combination of guest rooms, recreation, and shopping. With an area of 18, 000 square meters, the hotel undergoes elegant and deluxe decoration in the rooms, such as VIP rooms, deluxe banquet hall, multifunctional room and other cafeterias with various styles. Fujian cuisine and Cantonese cuisine cooked by famous chefs are of great popularity. In addition, you are able to sit in the western dinning hall to enjoy a romantic dinner, to stay in the teahouse to feel the ease and peace, or to relax yourself in the deluxe KTV. Apart from those selections, the sauna center and garden with many fitness equipments are good choices as well.