China Hotels >> Shenzhen Hotels >> Guangdong Hotel Huahai - Shenzhen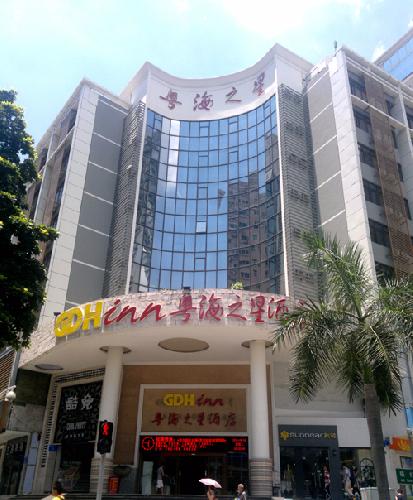 Address:
NO.80 Fuhua Road, Futian District, Shenzhen.

Location:
- 1 km to Huaqiangbei Business Street; - 2 km to Shenzhen Convention Center; - 5 km to East Gate Pedestrian Street; - 7 km to Luohu Railway Station; - 36 km to Shenzhen Baoan Airport.

Hotel Description:
Guangdong Hotel Huahai is located one block south of Shennan Middle Road in the Futian district of Shenzhen. Nearby points of interest include the Huaqiangbei shopping area, Shimin Square, Lizhi Park, Shenzhen Theater, and the Shenzhen Convention Center. It is two blocks from a subway station and 36 kilometers from Bao An International Airport. The 9-story hotel features 220 rooms and suites, equipped with broadband Internet access, cable televisions and direct-dial telephones. Wake-up calls and room service are also available. The hotel property features a sauna and massage center, game room, restaurant, concierge service, laundry service, tour desk, safe-deposit boxes, limousine rental service and parking area. Conference facilities include a meeting room and business center.
Facilities Hotel:
LOCATION - The Hotel distances from principal landmarks: (distances resulting from the map)
To North Huaqiang business center about 0.5km,
To ShenZhen Industrial Exhibition Center about 0.69km,
To Shenzhen Museum about 1.95km,
To Grand Theatre about 2.27km,
To Shenzhen Stadium about 2.62km,
To Shenzhen Convention & Exhibition Center about 2.64km,
To Luohu Border Check Point about 3.18km,
To Shenzhen railway station about 3.2km,
To East Gate Street, Shenzhen about 3.6km,
To Dongmen Food Street about 3.82km,
To Garden Expo Park about 7.83km,
To Fairy Lake Botanical Garden about 9.02km,
To Shenzhen North Railway Station (High Speed Station) about 9.59km,
To Overseas Chinese Town about 9.68km,
To Splendid China about 9.87km,
To Happy Valley about 11.26km,
To Window of the World about 11.56km,
To High Tech Industrial Park about 13.22km,
To Shenzhen Safari Park about 13.35km,
To Bay Sport Center about 13.98km,
To Sea World Site about 18.08km,
To Shekou Ferry Terminal about 18.83km,
To Mission Hills Golf Club about 22.72km,
To Xiaomeisha Beach about 24.11km,
To Dameisha Beach about 24.13km,
To Shiyan Lake Hot Spring Resort about 26.03km,
To Shenzhen Baoan Airport about 29.86km,
To Dapeng Ancient City about 44.6km,
To Sunmen Island about 48.31km,

*** Click the link you can find other hotels close to the same landmark

Others China Cities
TOP TEN DESTINATIONS

Hotels in Other Destinations