China Hotels >> Shanghai Hotels >> GreenTree Inn Shanghai Jingan Shimen 2Road Hotel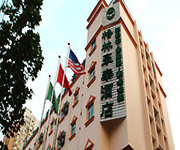 Address:
NO.505 Shimen erlu Road, Shanghai

Location:
from the city center: 3.5 KM; from the railway station:2.5 KM; from the airport: 15.4 KM

Hotel Description:
GreenTree Inn Green Tree Inn Shanghai Jing' an Shimen No.2 Rd Hotel Green Tree Inn Shanghai Jing' an Shimen No.2 Rd Hotel is another Green Tree Inn hotel opened in the city center of Shanghai. Green Tree Inn is the first foreign owned upscale business hotel chain established in China to provide high quality lodging facilities with affordable price. Hotel locates in business core downtown areas, No. 505, Shimen No.2 road - close to Suzhou River. There are totally 83 guest rooms, which include deluxe king size bed room, family suite, business king size bed, standard room, single room. The excellent geographical position, convenient traffic, extend to all directions, which is the best choice for the people to share the restaurants, entertainment, self-contained shopping, business, leisure, tourism. The hotel carries Green Tree Inn hotel chain's characteristics------the master design, simple style, chic, comfortable facilities. It is built to provide our valued guests with a healthy, comfortable, value and beyond expectation staying experience. Green Tree Inn - Waiting For Your Return.
Facilities Hotel:
LOCATION - The Hotel distances from principal landmarks: (distances resulting from the map)
To Consulate General of Finland, Shanghai about 0.79km,
To Nanjing Road about 0.82km,
To Canadian Consulate General Shanghai about 1.2km,
To Shanghai People's Square about 1.49km,
To Shanghai Museum about 1.59km,
To Shanghai Railway Station about 1.74km,
To The Bund about 2.89km,
To The Norwegian Consulate General in Shanghai about 2.99km,
To Yuyuan Garden about 3km,
To Russian Consulate General in Shanghai about 3.07km,
To Town god's temple about 3.2km,
To Lujiazui Finance & Trade Zone about 3.72km,
To Oriental Pearl TV Tower about 3.77km,
To Xujiahui about 5.07km,
To Argentina Shanghai Consulate about 6.29km,
To Shanghai International Exhibition Center about 6.41km,
To Consulate-General of Japan in Shanghai about 6.62km,
To Shanghaimart about 6.73km,
To Consulate General of Switzerland about 7.36km,
To Shanghai Everbright Convention & Exhibition Center about 8.06km,
To Shanghai South railway station about 9.51km,
To Shanghai New International Expo Centre (SNIEC) about 10.3km,
To Shanghai Hongqiao International Airport about 11.6km,
To Shanghai Automobile Exhibition Center(SAEC) about 27.99km,
To Shanghai Pudong International Airport about 33.35km,

*** Click the link you can find other hotels close to the same landmark

Others China Cities
TOP TEN DESTINATIONS

Hotels in Other Destinations