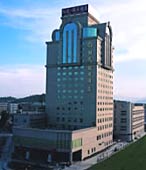 Address:
No.8 Sunshine Road, Rui'an, Zhejiang

Location:
35km to the Airport, 30kms to RuiAn Railway Station, 0km to the City Center; Surrounding landscape: Yuhai Museum, RuiAn Leisure Beach

Hotel Description:
Sunshine Holiday Hotel, same age as the new century, is the first integrated 4-star hotel in RuiAn. Located to the south of WenZhou, center of RuiAn city, with convenient transportation, an ancient cultural town, modern port city, all showing the unique southern river countryside scenery. Complete hotel facilities, warm service, Sunshine Holiday Hotel is your first choice for business discussions, meetings, and casual relaxing.