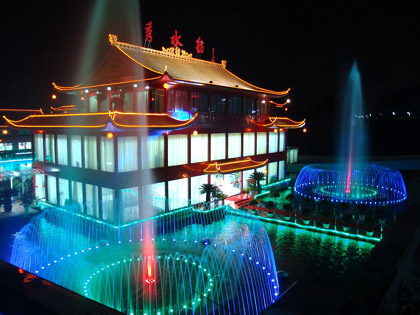 Address:
NO. 469 Sunshine Road Qiandaohu Chun' an Zhejiang

Location:
To the airport: 160 km To the business center: 3km

Hotel Description:
Qiandaohu is described as a green kingdom and natural oxygen bar. Water is the best sightseeing of it. Lakeview Houseboat Hotel&Resort locates on No.469 Sunshine Road Qiandao Town Chun' an Zhejiang. It is a multifunctional hotel combining accommodation, catering, and amusement according to the standard of 4 star hotels. The hotel and Qiandaohu merges to a new scenery. The hotel in on the lake of Qiandaohu, and it is the first classical houseboat on the lake. The unique architecture style of Red wall and Golden Roof becomes a new landscape of folk custom and turns to be a mark in Qiandaohu. The hotel is with Chinese characteristic and it is elegantly furnished with a square of 10, 000sqm. In this hotel, there are 102rooms totally, including deluxe suite, big-bed room, standard room and leisure room. The hotel' s dinning room on the water could bring you natural delicious food and it could hold 600 people at the same time.