China Hotels >> Macau Hotels >> Best Western Hotel Taipa Macau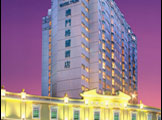 Address:
No.882, Estrada Governador Nobre Carvalho, Tanzai, Macao

Location:
Nest to the Shouxin Road and various place of interest Away from walking road: 8minutes Away from Macao international airport:8 minutes Away from dock of Hongkong and Macao:8 minutes

Hotel Description:
Locating in the city center, Best Western Hotel Taipa Macau is a holiday hotel with Portugal style. The decoration and style of the hotel is elegant. The building has 17 floors. The hotel owns elegant and comfortable guest rooms and suites. The multi-functional hall which named after Portuguese is the best place for private meeting hall, dining rooms, bars and swimming pools, fitness center, shuttle and parking lots. The hotel is located near the Shouxin Road of old city and various place of interest. The transportation is convenient.
Facilities Hotel:
LOCATION - The Hotel distances from principal landmarks: (distances resulting from the map)
To Macau International Airport about 2.46km,
To Pujing Casino about 3.71km,
To Ruins of St. Paul about 4.63km,

*** Click the link you can find other hotels close to the same landmark

Others China Cities
TOP TEN DESTINATIONS

Hotels in Other Destinations