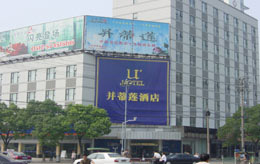 Address:
No.167 Chaoyang West road, Kunshan, Jiangsu

Location:
from the city center: 0 KM; from the railway station: 0.5 KM; from the airport: 50 KM

Hotel Description:
The hotel is a combination of catering, lodging, entertainment. It is a 3 star business hotel. The hotel is located in the pearl of Yangtze River delta. The hotel is located in the city center of Kunshan. The transportation is convenient. There is only 10 minutes from the hotel to the office of Taiwanese businessman. It is the beat place for foreigners and domestic travelers.
Facilities Hotel:
LOCATION - The Hotel distances from principal landmarks: (distances resulting from the map)
To Kunshan Railway Station about 0.86km,
To Qianjin Road about 3.24km,
To Zhou Zhuang about 30.64km,

*** Click the link you can find other hotels close to the same landmark


Others China Cities
TOP TEN DESTINATIONS

Hotels in Other Destinations