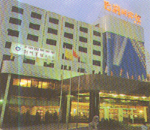 Address:
NO.8.Yingbin Road, Jingzhou District.Jingzhou City, Hubei China. Pc: 434020

Location:
Yih 0.5 Km SEast Gate 1.6 Km EGuandi Temple 0.5 Km SJingzhou Museum 2 Km WStele Garden, Nine Dragon Park1.6 Km EXuanmiaoguan 1 Km NYangzi River Bridge 1.5 Km EYangzi River University 1.5 Km SeZhongshan Park 4 Km E

Hotel Description:
Jingzhou Hotel is located at the center of the ancient city - Jingzhou, Hubei Province. It is only 8 kilometers away from the local airport, 5 kilometers from the railway station and the wharf, securing very convenient communications. Jingzhou Hotel isa modern, four-star tourist hotel. It received a large number of top leaders of the Party and the nation, such as Li Xiannian, Jiang Zemin, Yang Shangkun, Qiao Shi, Li Ruihuan and so on, and many world famous persons also stayed at the hotel during their trips to Jingzhou. Jingzhou Hotel has over 260 guest rooms including presidential suites, luxury suites, double and single rooms. Chinese restaurant, western restaurant, coffee shop and bar provide different flavours of food and various wines. The hotel can offer you all perfect first-class necessary services at any time --- shopping arcade, business center, laundry service, ticketing office, recreation center, bank agency, baby-sitting, clinic, health room, beauty salon and so on. May our cordial service being ever - lasting warmth for you!