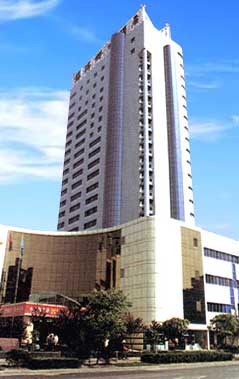 Address:
NO.258 RongShiDa Avenue Hefei, China

Location:
To airport: 10 km, to railway station: 3 km, to city center: 1km, to business center: 0.5km

Hotel Description:
Yinruilin International Hotel Investment Group in 2002, according to national standards designed to build star foreign tourist hotels, is the first private construction of a five-star hotel. After several years of steady development, Silver acid has become famous brands Anhui Province hotels. Environment quiet and elegant hotel, momentum qualities, service norms distinctive features. Inside Hefei, 16 Jan center, a total construction area of 42, 000 square metres. Hotel occupancy sets, catering, entertainment, and leisure with the integration is a business suite, a single business, business-quality, standard guest rooms, common rooms and a total of 441 presidential suite, all meals beginning 22 and a can accommodate 1000 people while eating the banquet hall, small meeting rooms for a total of 8 offices and a performing arts plaza, luxury KTV started, free if you, dance halls, and other entertainment. Since chess leisure, complete fitness center, beauty salons center, chess room, billiards room, shopping centres, car parks and other ancillary services available. Is your mission, tourism, leisure, receptions, business meetings of the ideal. Yinruilin people adhere to the "outstanding guest service is tomorrow, the quality is perfect tomorrow brilliant" values, and always with enthusiasm for every silver acid friend to provide the best services.